Sharing photos of the State archives
Our new initiative Archives2Share NSW aims to make State archives more accessible through crowdsourcing. This initiative provides a platform for you to share the digital images you take of the State archives in our collection with others online. These images will eventually be  made available through our experimental catalogue search tool.
Can you help?
Have you visited our reading rooms to view original NSW State archives?
 Did you take photos of the records?
Have you got photos of NSW State archives that you'd like to share?
If you answered yes to any of the questions above then you could  be exactly who we are looking for!
How does it work?
There are two main ways that you can contribute images to Archives2Share NSW and if  all else fails there is an Option 3.
Flickr – If you are a Flickr user head straight over to the Archives2Share Flickr group and add your images.  If you aren't already a Flickr user but would like to be  sign up is free and once you have created an account you will be able to add images to the group as well, or
State Records Upload Page – Alternatively, we have created an Archives2Share Upload Page on the State Records website where you can upload the images to us directly and we will add them to the Flickr group on your behalf, or if all else fails
Email - You can email the images, together with the information on your retrieval slip, to us at archives2share@records.nsw.gov.au
Suitable images
Images of any State archive that is open to public access.  i.e. If you were able to access the archive in the reading room (without needing a letter of permission granting you special access) then you can add it to the group. The image could be of a map, a page from a file, or just about anything really so long as it is a NSW State archive in the open access period.
Permissions
It is important to note that when you upload an image to this group you are agreeing to make it available under the following CC license:
 This work is licensed under a Creative Commons Attribution-NonCommercial-ShareAlike 3.0 Australia License.
Example from the catalogue
Here is an example showing the front and back of a railway history card (see the Flickr images at the bottom of the screenshot)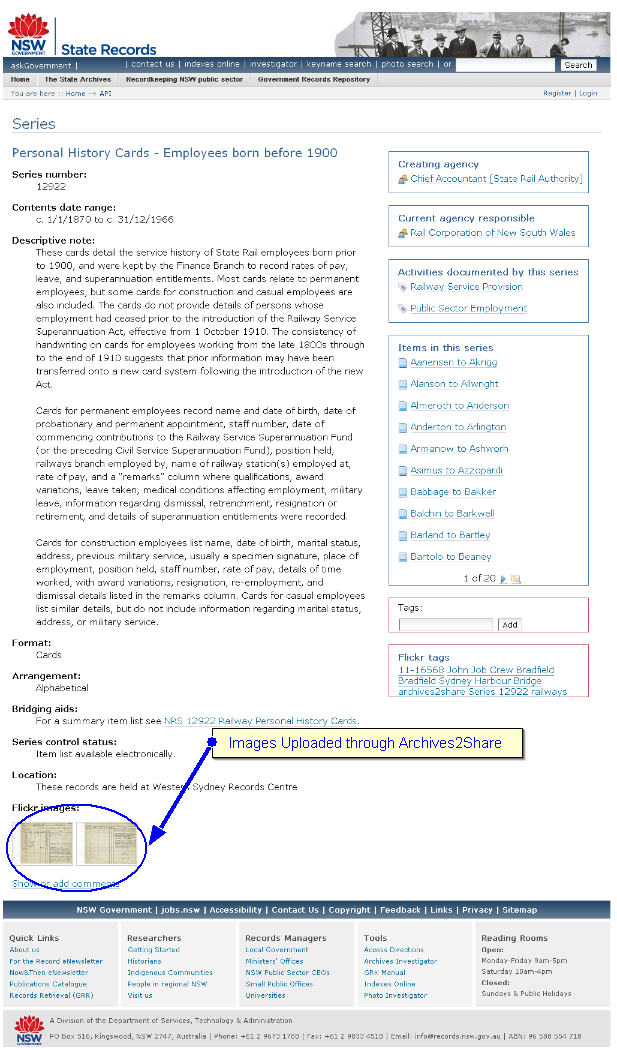 Example from the Flickr group
Here are some items that have been added to the Flickr group as examples.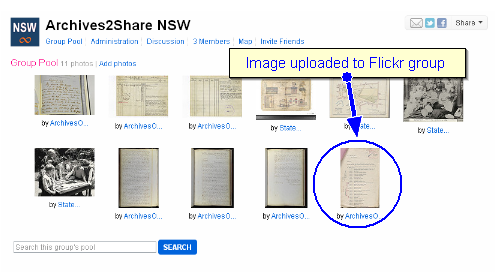 Feedback
This is a new area for us and we hope to share our progress with you in the Discussions area of the Flickr group. We also look forward to your suggestions and feedback.