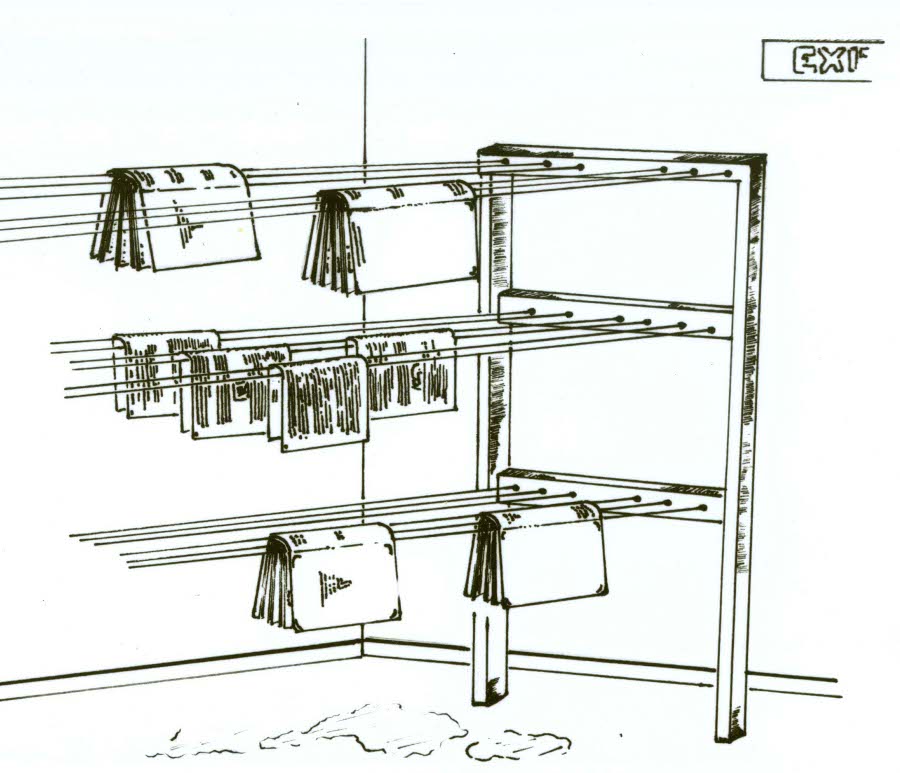 Training
Before going into any detail about the salvage and handling of wet records the importance of relevant training cannot be stressed enough. Contact the government archives, libraries, museums or galleries in your State or Territory to find out what training might be available. The best courses  will provide training both in the development of a disaster plan and in the salvage of records – with the very best providing the opportunity to handle and treat examples of damaged records.
Planning for records salvage
There are many good publications that provide information on how to treat records in the event of a disaster. Some of the information in this blog has been sourced from 'reCollections'[i], 'Be Prepared: Guidelines for small museums for writing a disaster preparedness plan'[ii] and 'Keeping Archives, 3rd edition'[iii]
Water damage is one of the most common results of disasters and mould growth often follows if you do not dry records quickly enough.
Handling wet records takes some practice, so if you don't have access to a training workshop that provides a salvage simulation find some disposable material you can wet yourself. Observe how it reacts and practice handling the records when they are wet. Try some of the drying techniques mentioned here and test out what freezing does to your samples.
It is important to know how to operate any equipment you will use to respond to a disaster – e.g. wet/dry vacuum cleaners, dehumidifiers, water pumps, etc.
Protecting you and your staff
Wearing the appropriate personal protective equipment is important to stay safe. Close-fitting plastic gloves will protect the records from damage and also protect you from possible hazards in the water. P2 masks capable of filtering mould are important as mould can grow very quickly in very damp conditions. Eye protection is also a good idea. Keep all of these things in your disaster kit to have ready when you need them.
 Do you have the space to dry your records?
Do you have a clean, dry, well-ventilated space that is large enough to lay wet records out to dry? Do you have the staff to deal with the quantity of wet records that are damaged? If you don't it's best to contact a salvage company to undertake the work for you – plan ahead and keep their contact details updated for when you need them and discuss their methods and procedures thoroughly so you know what to expect. Ask the company for their resume and be sure that they have experience in disaster salvage of archival records – do not go with the cheapest option unless you can be sure the company has the relevant experience. If you are unsure about any aspect of the company's methodology then contact a trained conservator for advice.
Salvage techniques
Air drying is the safest method for salvaging wet records if you have the space and can dry them within 48 hours – most records can be air dried without sustaining much further damage. You will need a room with good ventilation and air circulation. Pedestal fans and portable dehumidifiers can be used to increase the air circulation and speed the rate of drying by lowering the relative humidity in the room. Lay out blotting paper or some other absorbent material on large flat tables or dry floor spaces. Change the blotters regularly to aid in the drying process and to prevent mould growth. Some records, such photographs and negatives, can be pegged on to washing lines or string lines to dry.
Freezing is an option that can be used to buy time for some records; however some records should never be frozen when they are wet as they will sustain permanent damage.
Freezing is an option for
Records that have already developed mould
Records printed on coated paper
Records with water-soluble inks and dyes
Leather and vellum bound books
Never freeze
Photographs, film, glass plate negatives (including microfiche and microfilm)
Records with painted components
Electronic media
Magnetic media
Vinyl records
Records with mixed media (e.g. wood and metal components together)
Veneered wood (e.g. volumes with decorative wooden covers)
Be very cautious when freezing architectural plans – especially those of mixed format. More modern types of plans such as coated plastics and papers can block stick together permanently with other records if frozen together. If freezing is absolutely necessary ensure that all sheets are interleaved with waxed paper prior to freezing.
As a general rule, if you cannot dry your records within 48 hours you will need to consider freezing them to prevent mould growth and other problems. Freezing does not dry the records and the records will need to go through other drying processes to recover them fully. Blast freezers are preferred as they cool the records very quickly reducing the growth of ice crystals that can cause damage.[iv]
The three referenced publications provide detailed information about how to deal with specific record formats.
---
[i] Heritage Collections Council. reCollections: Caring for Collections Across Australia.1998. Commonwealth of Austrlia.
[ii] Soderlund, K. Be Prepared: guidelines for small museums for writing a disaster preparedness plan. Heritage Collections Council. 2000.
[iii] Hadlow, E. Preservation. Keeping Archives, 3rd Edition, 2008
[iv] Hadlow, E. Preservation. Keeping Archives, 3rd Edition, 2008