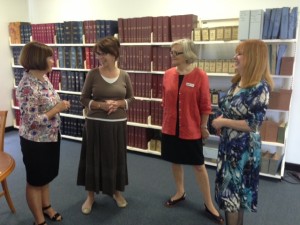 On Wednesday 6 February State Records A/Director Jenni Stapleton and I attended the Local Studies room of Bowral Library for opening of the Archival Collection of Wingecarribee Shire Council by Mayor, Juliet Arkwright. Under a Distributed Management Agreement with State Records NSW, Council has  transferred over 750 archives from its predecessor councils to the Local Studies collection. This includes Rate books dating back to 1886 as well as Infectious Disease Registers and burial documents.
Councils' Manager of Customer and Information Services, Andy Carnahan, noted that "There's a growing movement to return historical documents to the community…….our records staff took the initiative and worked with State Archives (State Records NSW) to enable the community to access a glimpse into the past through the documents of the day."
In opening the collection Mayor Juliet Arwkwright stated that "In a year in which we celebrate the dual sesquicententary anniversaries – or 150th birthday celebrations for both Moss Vale and Bowral – I can't think of a more fitting birthday gift for all of our Shire's residents."
The Mayor also acknowledged the contribution of Marie Wielgosz, Team Leader of Information Management who proactively led the Archive project. Marie together with the Information Services Librarian Roxanne Seaward and Librarian Sandra Croker have collaborated to create a wonderful resource for the Wingecarribee community.
A catalogue of the collection that is being made available and can be viewed on the Library website.