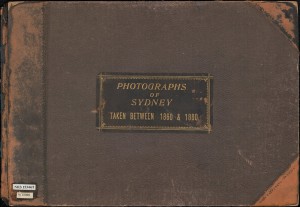 The name Degotardi is well known to those with an interest in photography. John Degotardi senior (1823-1882) photographed Sydney in the 1860s and 1870s, after arriving in Sydney in 1853. His interest in photography grew out of his occupation as a printer and engraver. His son John Degotardi Junior (1860-1937) worked at the NSW Government Printing Office and was photographer with the NSW Department of Public Works from 6 January 1897 to 1919.
Among the material held at State Records is NRS 15344 "Photographs of Sydney taken between 1860 and 1880" from the Navigation Department. This album includes photos of Sydney Harbour and environs, major buildings in Sydney, provincial centres and rural New South Wales. The album has a note inside the cover saying: 'This album was purchased from J. Degotardi, Department of Public Works, in 1913 – price £20'.
So are these works by his father John Degotardi senior? After all the Department of Public Works photographic section begins in 1883 and these photographs are clearly 1860s and 1870s. Also as a public servant John Degotardi junior would not have had the right to sell Public Works' photographs in 1913. We know there are some keen Degotardi fans out there and we welcome your input!
Browse the album on Photo Investigator