The awards were announced at the end of the ICA 2012 Conference in Brisbane. And we are delighted to tell you that Richard @richardlehane and Nott @airgear01 from the State Records NSW Digital Archives team have won the Mander Jones Award for "best finding aid to an archival collection held by an Australian institution…" for their excellent work in creating an API to our online catalogue, Archives Investigator.
Congratulations Richard and Nott!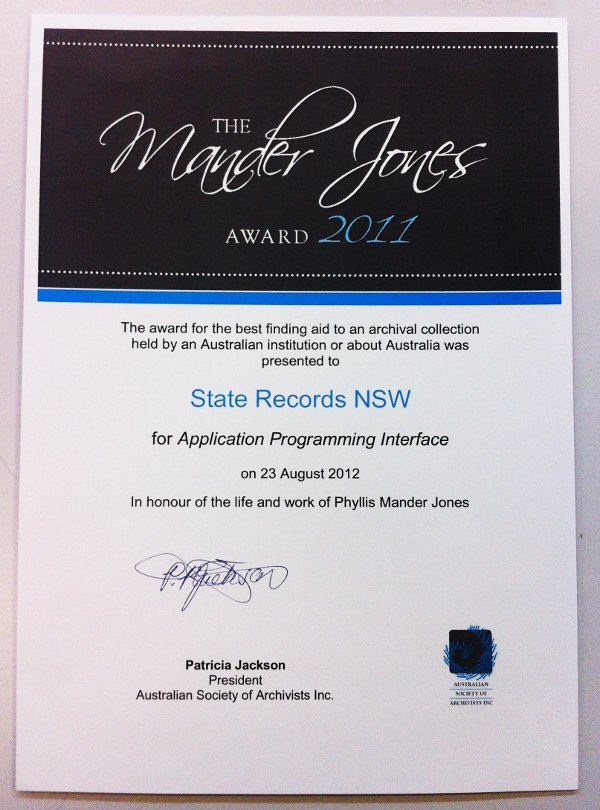 Exclusive celebrity interview
On hearing this good news we asked Richard a few questions, Q&A-style.
Q: What was the original purpose for the API?
A: API stands for application programming interface. The key thing here is that this new interface was originally designed for computer programs, not people. The idea is that if we can provide structured access to the data within State Records NSW's catalogue we can open up new possibilities for the re-use of that information, for example in mobile phone applications or federated search portals. Because we had to create a whole new application to do this, it was quite easy to add a new user interface to this application too. Oddly enough it is as a new user face (branded as our new 'experimental search tool') that the API has been most successful, so perhaps we shouldn't have called it an API at all.
Q: What was the biggest surprise in how you saw the API being used?
A: As an interface for regular users, I had originally thought that the API should aim to satisfy users' queries as quickly as possible: do a simple search, find the right record series or item, and you're done. One thing that is immediately apparent from our web statistics is that this isn't happening at all. Users are actually spending a lot more time on the site than they do for Archives Investigator.  For each of our unique visits, we get about 80 web pages viewed where Archives Investigator gets about 18. On reflection, this is fantastic because it means that users are having a good dig around in the collection. It means that users are following the relationships between entities much more (for example, clicking on a creating government agency and then viewing other records created by that agency) and that's brilliant because that is what archival research is all about. I've come to believe that a good archival catalogue should aim to be like Wikipedia: you visit looking for one specific thing but find yourself on the site half an hour later, having followed links to a bunch of other related concepts and having built up a detailed mental map of all of those connections.
Q: How do you see – or how would you like to see – the API being used in the future?
A: I'd like to see the API side of the project (the computer interface) fade into the background. Providing structured access to data is important because it gives State Records NSW a platform for collaboration and innovation. This open approach, I think, should be the way State Records NSW goes about building all of its online tools. It is great as infrastructure. But raw data isn't an end product that many of our users are interested in, and I'd like to see the user interface side of the project become its focus. In the future, I'd like to see this user interface expand to become a complete discovery service, encompassing all of State Records NSW's online resources: the indexes, digitised material, and eventually born digital records too. We have a lot to work on!
It certainly sounds like it and we're excited! More information about the use and development of the API is at Richard's blog Opening the Catalogue.
The API is very simple to use, especially as there is just the one search box. Try a search and see for yourself.