A week and a half ago I attended the CAARA / NAA residential "Archives 2.0 – interacting with the future".  It was an amazing week highlighted by an impressive program of speakers and some great discussions with fellow delegates.  Trying to condense the week into a blog post has been almost impossible because there was so much going on! To get an idea of the ground we covered I recommend taking a look at the CAARA residential blog which contains a summary of the proceedings of each day as well as the business case being developed (which is still a work in progress).  There is also a great overview of the week at this blog, NAA / CAARA Residential 8-12 November 2010 written by Mark Semmler & Linda Zackman. Many thanks to Dagmar Parer (Director of Studies) and Emma Buckley (Residential Coordinator)  for putting together such a great event.
Here is a list of some personal highlights:
– set the standard for the event with a speech via YouTube discussing the opportunities presented by the internet/digital age.
Pia Waugh (ICT Policy Advisor, Office of Senator Kate Lundy)
– spoke about all things Web 2.0 and engagement. She stressed the importance of scalability and modularity. Start small, use the tools that are available to you, tools that will connect with each other and tools that will allow you to grow (don't reinvent the wheel).

Sebastian Chan (Acting Head of Digital, Social and Emerging Technologies, Powerhouse Museum)
– used the Powerhouse Museum as a case study for employing Web 2.o technologies. There was alot to take home from this but a couple of key points were: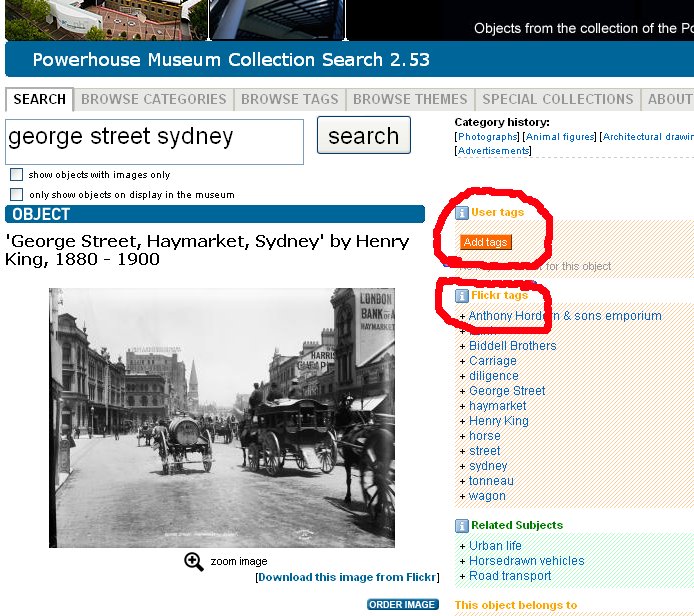 Making collection data available to all using an API (application programming interface) or basic data set
The work on the Powerhouse's collection data is ongoing and is released with the following caveat  "Research and documentation, both textual and photographic, of the Museum's collection is a continuous process and so from time to time the information for an object may be out of date or simply reflect the knowledge available at the time of writing."
The data is issued under Creative Commons non commercial attribution licences.
This is in turn makes things like Mashifactor possible.
Go to your audience (e.g. Flickr).
Incorporating user tagging of collections into search engines as well as importing flickr tags (see screenshot above).
Simple ideas can be very effective – Exploring the Bandstand, Hyde Park (below).
– inspired with a presentation discussing the wonders of metadata, it's possibilities, how to structure it, what you can do with it and where it can it can take us in the future.
The four Es: Doing more with metadata

Barbara Reed ( Director, Recordkeeping Innovation)
– made the case for Recordkeeping 2.0 as opposed to Archives 2.0 and challenged our thinking about how we will operate as information professionals in a web 2.0 world and beyond.
Cassandra Findlay (Senior Project Officer, Government Recordkeeping, State Records NSW)
– got the group thinking about current practice with a discussion of recordkeeping and Web 2.0  in the context of State Records Guideline 24 Records management and Web 2.0. She also used case studies to highlight  pragmatic ways of dealing with the capture of Web 2.0 content when presented with a less than ideal situation.

Professor Anne Fitzgerald (Law Faculty, Queensland University of Technology)
– made a compelling case for the use of Creative Commons licenses in the public sector as means of following the principles of open government and Gov 2.0 while still retaining some rights.  Learn more at Creative Commons Australia!
Some links to share?
I'd love to hear what the highlights of othe CAARA attendees were or if you didn't attend CAARA and have a Web 2.o link to share please add your links in the comments.