– from request to delivery
[or: The Amazing Adventures of Dame Nellie Melba's Probate Packet]
The viewing! It's 9am and our savvy web surfer is here. In fact, he arrived a bit earlier than the opening time and has been patiently waiting in the reader's lounge with a cup of tea.
Most researchers drive to the reading room at Kingswood but there is a bus which stops here frequently.
If you are just tuning in to the "Day in the Life of a State Archive" series then here is a brief run-down: I'm a Probate Packet living at State Records NSW. Someone found me on the Internet and has requested to see me. I've been retrieved and I'm about to be viewed.
Issuing
Mr Jones [not his real name] is in the reading room chatting with the friendly archivist on duty. He shows his confirmation email and reader's ticket.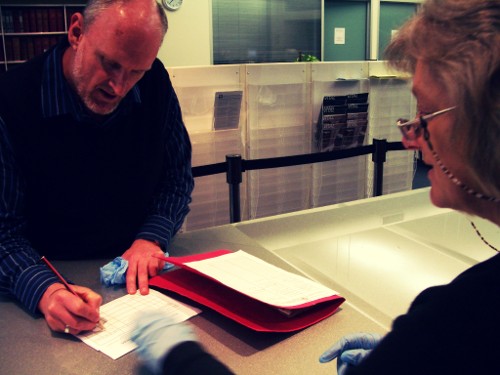 The archivist finds his request slip. He signs for me and is handed a pair of gloves. Cotton or latex? He goes for latex.
It's important to handle items with great care and follow the reading room procedures.
Mr Jones takes me over to the manuscript area and sits down. He opens me and stares intently. I'm on best behaviour as he quietly and carefully inspects my contents. After the inital shock of yesterday's retrieval I have to say I'm enjoying all the attention.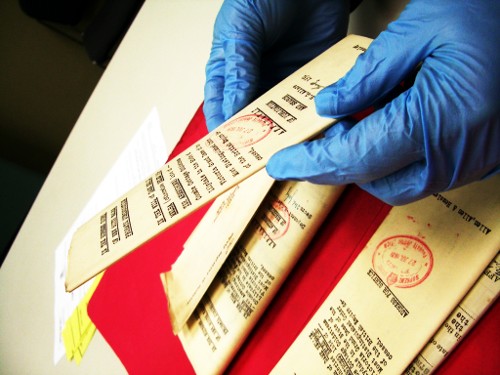 Copying
Mr Jones is impressed and asks if he can get a copy of me. Of course! says the archvist. But one of the clerks must do it; they are trained to copy fragile documents. On average they can copy up to 200 pages a day.
The archivist shows Mr Jones the form to fill in for a copy request. She explains that photocopies are priced at 45cents per page for loose leaf files (that's me). Larger pages and volumes are priced at $2.00 – a special format copier has to be used for these items.
He can also request high resolution digital copies (to be completed within 20 working days) or, if he prefers he can use his digital camera to take photos of me. He's happy to hear that and sets to work snapping happily away.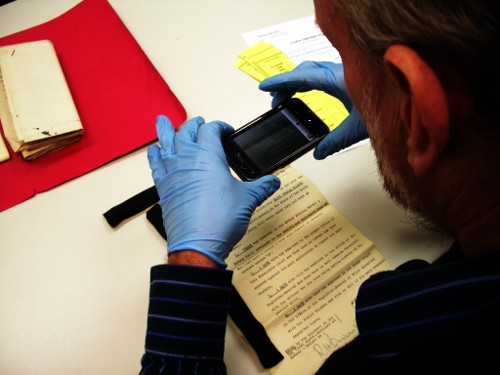 He decides to use the photos as his working copy and selects a few of my more important pages to be scanned.
It's been a productive day all 'round. Mr Jones requested some other files while he was visiting, bought some food from the lunch truck which comes past most days and collected some information leaflets of interest.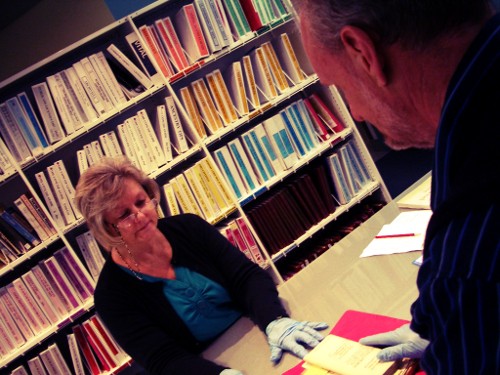 The end
What an adventure I have had….I've been scanned and am now 'back in my box.' It's good to be back but I can't deny I enjoyed my outing.
Questions
Do your researchers have to wear gloves?
Can your researchers use cameras and scanners in the reading room?
We hope you enjoyed our "Day in the Life of" series. Our aim was to highlight some of our public access procedures and the actual process of providing access to a record in the reading room. We hope to learn about your own in-house procedures and any 'retrieval' experiences you might think of interest. Please use the comment form below.