Halloween draws near. Want to hear a ghost story? Well, make yourself comfortable.
The origin of this story dates back 184 years, to 1826. When murderous intent was nigh…
Frederick Fisher and George Worrell were the best of friends and worked a farm in Campbelltown. George Worrell (or Worrall) was a waggoner from Cheshire who had been transported for life to New South Wales. He arrived in 1813 on the Earl Spencer. In 1818, when he was 31 years old he petitioned for and received a Ticket of Leave – the petition described him as being  of "Industrious habits, and of an honest Character….and Sober".
Frederick Fisher sounds like an enterprising man and had built up his own small nest of assets. He even offered to sell buildings and land he owned to the Government for the troops stationed in Campbelltown. The price was for 2500 acres of land elsewhere but this offer was rejected.
All appeared well on the farm until Fisher disappeared in June 1826. His brother, who also lived in the Colony, had no idea of his whereabouts. Worrell's explanation was that Fisher had left the Colony (fearing a forgery charge) and had passed all his assets over to George. The story seemed rather dubious; Fisher was only a few months shy of becoming a free man so why would he scarper?
Suspicions were aroused…but there was no evidence, as yet. In our records, a correspondent to the Attorney General speculated if Worrell knew of an accidental death and remained silent in order to take over the property or, if in fact, he was involved in murder.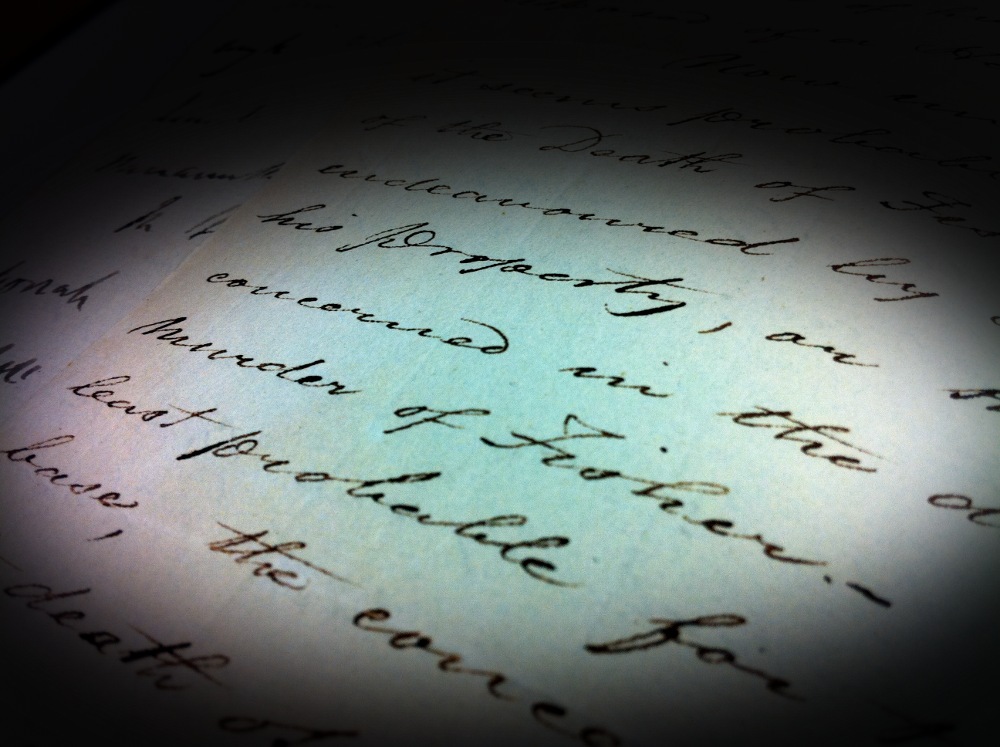 So where's the ghost, you ask? Well, there is nothing reported of the ghost in the official records; superstitious testimony was not accepted in courts of law. But there are numerous accounts of a ghostly figure…
One night a neighbour called Farley claimed he had seen a phantom figure,  rising out of the mist. It was the ghost of Frederick Fisher sitting on a fence near the farm and pointing towards a waterhole. And lo and behold what did the Constable and two Aboriginal trackers find in that very place, but blood! The trackers neared the watering hole and one declared "I smell the fat of a white man!" Further searching found a body, the body of Frederick Fisher. After this discovery, it didn't take long for George Worrell to confess to murder, he had beaten his best friend to death with a stick. He was subsequently tried and hung 5 February 1827.
But that wasn't the end to the ghost of Frederick Fisher. His ghost haunts the Campbelltown area to this very day. Is it because the murder is partly unsolved? Was Farley also guilty and did he invent a ghost story to cover his guilt and shame? Or was the body not that of Frederick Fisher and is this why his ghost still roams…
There are many stories about "Frederick Fisher ghost" and you can find newspapers stories on Trove about the Ghost of Frederick Fisher.
…just don't go reading them after dark!
Happy Halloween bwahh haa haa haa!