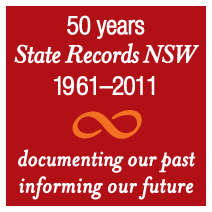 Last Wednesday, Wayne Doubleday, Manager CSU Regional Archives and University Art Collection visited State Records at Kingswood to talk 'archives'. While he was here, Wayne graciously offered to play guinea pig and be interviewed by Fiona and Anthea. Having been previously interviewed by ABC Local Radio, Wayne helped put our nerves at ease…wait, shouldn't it be the other way around?
Interview with Wayne Doubleday – CSURA
If you can't access the audio file above (or you would prefer to skim a text version) we have included the transcript of the interview.
TRANSCRIPT
Interview with Wayne Doubleday, Manager, CSU Regional Archives and University Art Collection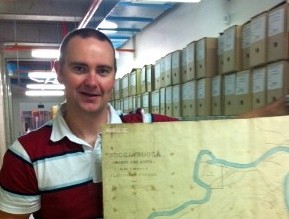 FS: Hello Archives Outside bloggers! I'm Fiona Sullivan and I'm here today with Anthea Brown and Wayne Doubleday…
AB: Hello.
WD: Hello everyone.
FS: …and we will be conducting our first interview, in what will be a series, to celebrate State Records' 50th Anniversary and the 48th Anniversary of State Records' involvement in regional NSW, by doing a series of interviews about the regional repositories that are in our network.
So, Wayne, how did the repository evolve?
WD: Basically, the CSU regional archives, as it is known now, started in 1973 as the Riverina Special Collection which was in the library of the Riverina College of Advanced Education, or RCAE, and it is actually a precursor institution of Charles Sturt University. The real driving force behind it was Dr Keith Swan, who was a lecturer in history at the Wagga Teachers College which was taken over, if you like, by the Riverina College of Advanced Education in 1972. So, the Archives dates back to 1973 but it wasn't until 1977 that the Archives became an autonomous entity within the library and was formally known as the Riverina Archives, at that time, and then a year later in 1978, arrangements were formalised with the then Archives Authority of NSW [now State Records NSW] for the Riverina Archives to become a repository and house the Archives for the Riverina and Murray Regions.
AB: OK, that's good. It's been there for quite some time, you must get a lot of regulars in, do you?
WD: We do, we do. We have around about…last year I think, or the year before, we had just under 2000 regular users for the calendar year and that's an increase on say 4 or 5 years ago when we were only getting roughly 800 a year, so usage is good and it's increasing which is great.
AB: That's great. How long have you worked there?
WD: I've been at the Regional Archives since 1998 in a number of jobs, I suppose, a number of different guises. I began working there casually when I was undertaking my Honours degree in History and I was lucky enough at the end of 1998 to get a full time position as, I think, the Archives Officer. Or something like that, Administration Assistant or Archives Officer …and since that time I've mostly been in access and reference services positions which I thoroughly enjoyed but these days, or since 2006, I've actually been in the Manager's position and that basically involves an oversight of all the activities of the Archives be it: staffing, budget, operational, or just day-to-day administrative tasks.
FS: So you must have a really good handle on the types of records that are held in your collection given the different areas you've worked in?
WD: I'd like to think so, yes hopefully! There are three main categories of records that we collect; the first of those is, being affiliated with the University, we have University records, including the pre-cursor institutions of Charles Sturt University which date right back to the Experiment Farms in the 1890s. So the University records can include things like graduation programs, Annual Reports, any publications the University produces, old student results and transcripts. That sort of thing.
The second category is that, as a regional repository for the State Records Authority of NSW, we also look after records form the Riverina and Murray regions and that is the inactive records from the State Government agencies, departments, including Dept of Lands, Dept of Education, Local Govt, Health, Courts, and Police records, just to name a few.
And thirdly, what we call private regional records, we also collect from our collecting regions which are non-Government and non-University records. So basically anything that doesn't fit into the first two categories can fit into the third. And they can be absolutely anything. And amongst those three categories we have all different sorts of formats be they paper documents, photos, maps, plans, registers, volumes, slides, glass plate negatives, even 8mm and 16mm film. So it's a pretty diverse collection from a diverse area and I think that's what makes it such a great collection.
FS: Your private records, in particular, are very diverse, aren't they?
WD: They are, yes. I mean, we've got anything from cultural organisations to sporting bodies to religious groups to politicians. You name it, hopefully it's there.
FS: Station records?
WD: Station records, yes, the real jewel in the crown! There is Tubbo, the Tubbo Station. That collection in itself is well over 300 Type-1 archive boxes; that's probably the big one which gets the most use but we do have a number of pastoral collections as well.
AB: Given the extent of your collection, I've got two questions here: what is the most frequently requested archive and what is your most….strangest request?
WD: The most frequent would probably be anything to do with genealogy. It's the BDMs, the convict records and/or the shipping records that make up the Archives Resources Kit… but also, possibly anything that has a real, local bent or centred around Wagga. Land records are also another very, very popular request. And particularly newspaper articles and photographs that appear in the local newspaper, the Daily Advertiser. We get a lot of request for those.
As far as the strangest request I've had, there has been a few… it's probably not so much a strange request as a misconception and it's got to do with our title being Charles Sturt University Regional Archives. There's a misconception out there, and it happens on a regular basis, we get enquiries about the original records of Captain Charles Sturt. And the fact that because we are the Charles Sturt University Regional Archives people have the misconception that we have his original diaries and original ephemera related to Charles Sturt. And that's not true; we don't. We put people in touch…I think from memory it may be the South Australian State Library who actually has a large…and probably the Mitchell Library as well…amount of his holdings but we actually don't. So it's not a strange request but it's one that keeps coming up.
FS: So as part of the celebration of the 50th we asked you to bring or present an item from your collection that had a story attached to it or that was particularly noteworthy. Can you tell us about the item that you've chosen? 
WD: Sure, the item that we have is the 1849 original surveyors map of Wagga Wagga and the interesting thing about it is that it's the only one that we know of, or that we have in our collection, that actually misspells Wagga. And we don't know why it misspells Wagga but it spells WAGGA as WOGGA rather than Wagga. As I said, it's the 1849 original surveyor's map and interestingly a lot of the streets that are actually on there never actually eventuated which I can't explain why. The interesting part about it is that Wagga was actually gazetted in 1849, that year, so it's very popular with our researchers to see the original plan for Wagga. We did actually do a little bit of research into some of the street names and it turned out that the surveyor had actually served in the Crimean War and a lot of the surnames are actually the soldiers he served with in the Crimean War so that's where a lot of the names come from for example Fiztmaurice and Gerber street and Kincaide but yeah it's an interesting anomaly and one we haven't been able to fully explain.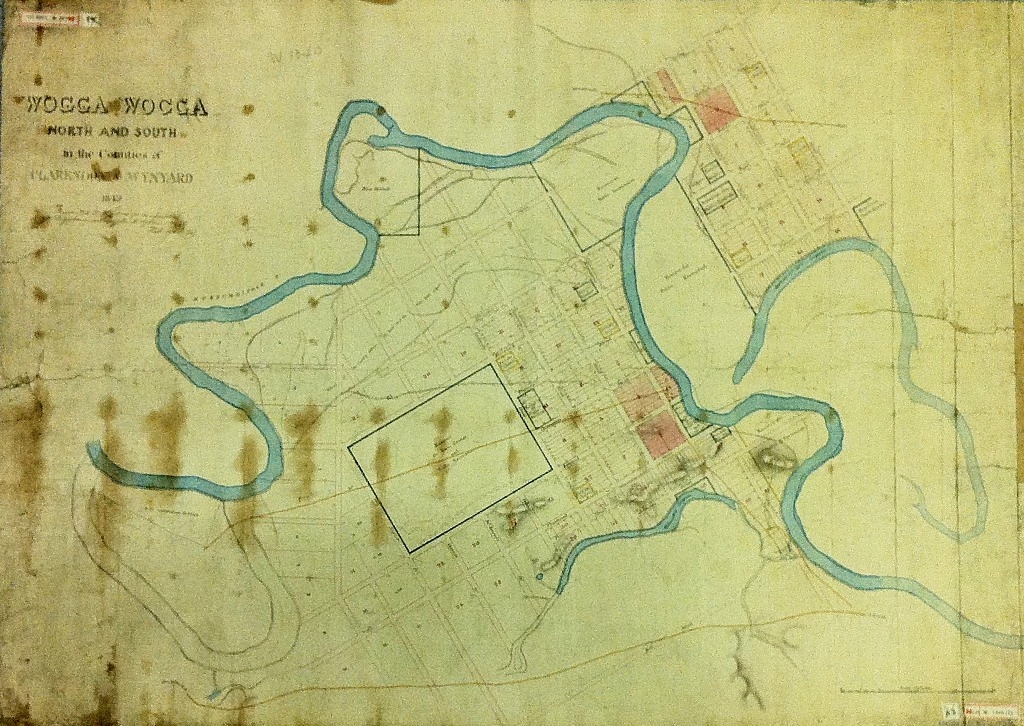 AB: Well maybe one of our listeners here may be able to help.
WD: That would be great.
FS: Definitely.
AB: Moving onto online questions we've got here: Is your repository online and has this been a positive step towards providing access to your researchers?
WD: It is yes, we do have a website and I'll give it a quick plug www.csu.edu.au\research\archives and we have finding aids for all three of those types of records that I mentioned earlier: the University archives, the State records and the private records we have finding aids for all of those three different categories on our website. At present the actual accession or box lists aren't available on the website but this is a project we are working on and we'd like to think that in the future the lists we can make available will actually be made available. I think it has definitely been a positive step in providing access because a lot of the enquiries that we get through the Archives, now, that come to the search room are generated not so much through phone calls or visits but through emails or people accessing our website and wanting to find further information about a particular topic…and the web actually or the website gets us out to a bigger audience than it would previously.
FS: Is your repository involved in any Web 2.0 initiatives? Do you use Twitter for example?
WD: We don't, funnily enough. We do use the Archives Outside blog, of course, but at this stage we don't actually use Twitter…
AB: This could be your chance.
WD: … or Facebook. Apart from the Archives Outside blog the other resource we do actually use quite significantly is Flickr .We have our own photostream on Flickr where we put up our own images and photographs and again that's an ongoing initiative and we hope to increase the amount of images and photographs available on Flickr. Probably the main reason why we haven't gone down the Twitter and Facebook route at the moment is that it's quite time consuming and staffing, we find, is a big issue in that the staff we have got are normally doing other collection management issues or providing reference or access services, so it's not that we don't want to use these technologies it's just that at the moment we have other priorities.
AB: Yes, so fitting them into your usual work.
WD: Exactly.
AB: We'll actually post all of your links for the end of this interview for the readers.
[Note: links are within the body of the transcript]
WD: Great, that'd be fantastic.
AB: Okay back to offline we've got: What types of outreach activities are you involved in? 
WD: As an entity the staff of the CSU Regional Archives we have a fortnightly newspaper piece in the Daily Advertiser entitled "At the Archives" and what we try and do there is promote an upcoming event that we are either hosting or being a part, of or we'll find an interesting article or photograph in the collection and try and put together the story behind that particular photo or something like that. And that's worked really well. We've been doing that since, I think, the end of 2007. It is again quite heavy in the staff resources it uses up to generate an article… it's a full page article too, so it does take quite a bit of time to actually generate that article but it's definitely worth it because we've had a lot of people come to us or come to the search room for the very first time and say to us that they didn't even know the Archives existed and they saw the article in the paper and so they've come in, so if that keeps happening, if we can still get that usage then it's still a very worthwhile activity. Other Outreach activities involve speaking engagements. I normally do one of those at least once a month and that may be to a community organisation or a club or a genealogical group, also the occasional radio interview with the local radio station in Wagga and even presentations at conferences and seminars occasionally but basically anything that generates some positive publicity about the Archives is always handy.
FS: That's great. Since we're celebrating  50 years at State Records this year, which we've mentioned once or twice in this interview already, we thought we'd ask where do you see your repository in 50 years' time?
WD: Now, I had to think long and hard about this. I initially thought, "Well hopefully doing exactly the same things that we are now" but then I thought, "Well that's not going to be likely at all because in 50 years technology is gonna advance a long, long way" but primarily my wish list would be a brand spanking new repository with no storage space issues or anything like that, which would be lovely, but I think, obviously in 50 years' time the majority of records are going to be created in some sort of digital format, but having said that we are still going to need to maintain and care for  the custody of the records that we have now and be that whatever format they are in whether its documents, registers, maps, plans or photographs they are all gonna need a lot of care and help in the future to actually survive, so I think a lot of our time is going to be spent on conservation and preservation in the years to come.
AB: Wayne Doubleday than you for your time.
FS: Thankyou.
WD: Thank you very much.