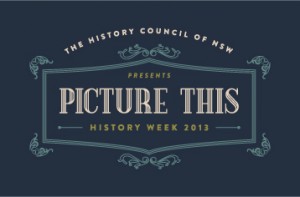 Strike a pose, there's nothing to it. In the image conscious 21st Century photographs shape the world. How has the development of the visual changed, informed and shaped society? How do historians use art and photography to inform their research? Who were the original mad men of the advertising industry? Long before the Kardashians, the rich and famous manipulated their images and throughout time people from all backgrounds and cultures have created their view of the world through visual representations. History Week 2013 will bring the past into view through the frame of images.
All members of the History Council of NSW are entitled to host an event during History Week. History Week events will be published on the website from August to September. The History Council of NSW also runs a statewide publicity campaign and event hosts receive an event host kit with advice on promoting their event and templates.
There are three ways to participate in History Week 2013:
1. Create your own event
Put on an exhibition, host a lecture or seminar, run a walking tour or throw a theme inspired party.
2. Register to host a speaker
Once again in 2013 the History Council of NSW, in partnership with the Royal Australian Historical Society, is offering member organisations in regional and suburban NSW the opportunity to receive speakers during History Week.
3. Speak at a History Week event
As part of History Week 2013 the HCNSW is seeking talented historians to travel to community and local government organisations in regional and suburban NSW to deliver exciting and thought provoking talks.
Applications for History Week 2013 are now open and close 30 March 2013.
Visit the History Council website for more information.