First Fleet Convict Indents on Display at NSW Parliament House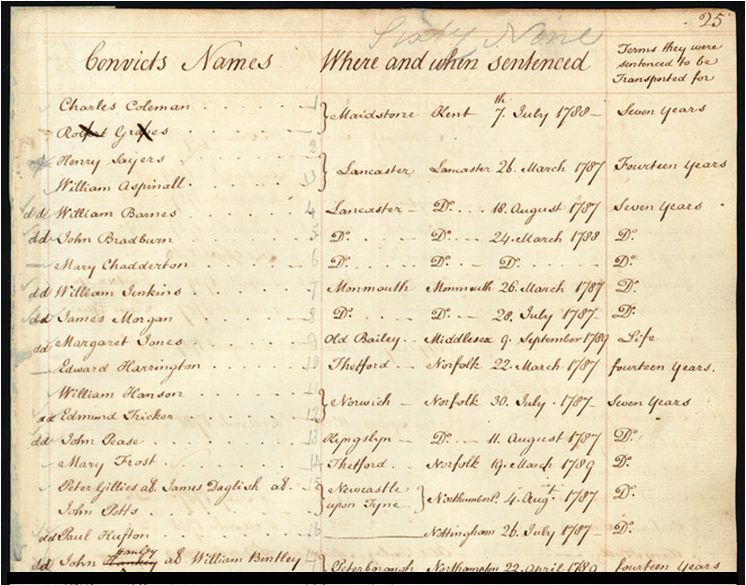 State Records NSW in partnership with the Parliament of NSW is celebrating 225 years since the establishment of New South Wales. On Australia Day, 26 January 2013, at NSW Parliament House, the exhibition Sentenced beyond the Seas features the original indents for convicts transported in the First Fleet. Don't miss this rare opportunity! (On display for Australia Day 2013 only.)
Hours of Opening: Parliament House will be open to the public on Australia Day, Saturday 26 January 2013 from 10am to 4pm as part of the Macquarie Street celebrations.  Entry is free.
Sentenced Beyond the Seas Digitisation Project

State Records NSW's digitisation project Sentenced beyond the Seas for the first time makes available colour digital images of the early convict indents from 1788 to 1801. Sentenced beyond the Seas, features the series Indents First Fleet, Second Fleet and ships to 1801 (NRS 1150) and contemporary indexes known as the Alphabetical Indents, 1788-1800 (NRS 12188). The digital images in Sentenced beyond the Seas include archives held by State Records NSW and selected archives held by The National Archives (United Kingdom), the National Library of Australia and the State Library of New South Wales. State Records NSW thanks these institutions for their co-operation in this project. There are over 800 colour digital images included in Sentenced beyond the Seas.
Sentenced beyond the Seas can be found on State Records website via Online Indexes or through the Convict records web page. The comprehensive Early Convict Index includes over 12,000 names which appear in the records, including not just those who arrived but those on the lists who were embarked, those who died on route and even those whose names were crossed off the lists. The index includes: surname, first name, alias, ship page and ship entry, age, tried at, county, tried when, sentence, occupation, ship and remarks. There are links from each entry to the digital images for the ship's indents and/or the Alphabetical Indents.
Sentenced beyond the Seas is State Records NSW's free gift to the people of Australia and the world to mark the 225th anniversary in 2013 of the arrival of the First Fleet at Sydney Cove on 26 January 1788.