Some of the interesting things we have found online:
A Gallipoli Camera
The camera is a Kodak Vest Pocket.  It was originally made around 1912 and it was used by the soldiers in WWI because unlike previous models, it could fit in their pocket and did not need a tripod or other equipment…Although they were forbidden, many soldiers…carried their pocket cameras into the front line at Gallipoli and Palestine…
South Sudan archivists launch battle against termites, rats, time (via @rquivística )
 Surrounded by walls of boxes, researchers scan and catalogue the crumbling, mildewed pages, some nibbled by rats, which make up the national archives of the one-year-old republic of South Sudan……..

Archivists hope historical records of internal conflicts over borders, cattle, grazing land will help resolve modern-day violence of same type.
India buys Gandhi archive to halt auction
India has paid $1.1 million to buy a collection of letters, papers and photographs relating to Indian independence icon Mahatma Gandhi, preventing their sale at a planned auction in London.

The archive, which belonged to Gandhi's close friend Hermann Kallenbach, a German Jewish bodybuilder and architect, was to have gone under the hammer at Sotheby's on Tuesday.
Our manifesto for good recordkeeping and key ways to achieve it
We had a lot of interest in our blog post for International Archives Day, Our Our top 5 – Why recordkeeping is awesome! So, for the Forum, we chose to expand on this theme, and develop a bit of a 'manifesto' for good recordkeeping and to give our top 10 tips on what recordkeeping professionals need to do to achieve good recordkeeping.
The Digital Engagement Guide – Ideas and practical help to use digital and social media in the public sector
This Guide aims to become one of the best sources of useful examples, tools and practical advice about how UK public sector organisations can engage online.

Part bookmark collection, part reference manual, part Q&A site, it's a place to get inspiration, shortcuts and answers. Rather than try and build another new community from scratch, it's starting out a content-led project, actively tended by Steph Gray and invited friends.
Will future historians face a Digital Dark Age?
Lack of historical evidence has always been one of the greatest frustrations facing historians. Skills such as reading and writing were long the preserve of a privileged few – resulting in a historical record that often reflects the voices of those in power and obscures the lives of ordinary men and women.

All of which makes the recent creation of the largest and most democratic archive of information that humanity has ever seen pretty darn exciting. Behold – the internet!

Yet, despite promising a tantalising treasure trove for future historians our digital heritage is in danger of being destroyed. Digital preservation is not just an issue for historians, it is important for everyone wishing to preserve precious memories for future generations – photos, video or correspondence – in our digital world.
How to Deal with the 'Digital Dark Age'
At present, as you read this article, academic history stands at a nexus in relation to the Internet and social networking. If properly harnessed, the potential research yield contained within social media and networking sites offers historians in the not too distant future an ability to construct a detailed, multi-faceted and comprehensive recreation of society in the early twenty-first century, a recreation that was simply impossible for their predecessors. However, in the way of that magnificent opportunity stands both practical and philosophical obstacles that will need a concerted effort from concerned members of the global humanities and social sciences faculty to overcome. These obstacles involve changing public attitudes to how social networks use data, harnessing a huge and ever multiplying amount of information on the human condition and being aware that the Internet is fundamentally changing how we catalogue the current so it is accessible when present becomes past.
Keeping Up: Is Digitization Creating a Cataloging Crisis?
The rapid pace of digitizing the holdings of museums, archives, and libraries can create a backlog of identification and description to accompany the new electronic image files—descriptive metadata and catalog records, such as the MARC format records in SIRIS.
A creative use for old microfiche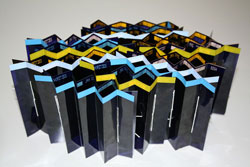 Since March 2011, I have been working on the third in the series, a piece on archivists and the access to and dispersing of Data, with the working title of Temple of Data.
If You 'Discover' Something in an Archive, It's Not a Discovery…or is it?
…So where was this document found? Was it in a suitcase in the attic of Dr. Leale's great-great-great-great granddaughter? Well, no, it was at the National Archives. Was it in a warped metal filing cabinet down a neglected set of stairs labeled "Beware of the Leopard"? No, it was in a box of other incoming correspondence to the Surgeon General, filed alphabetically under "L" for Leale. In short, this document that had been excavated from the depths of the earth with great physical effort was right where it was supposed to be.

Read on – there's loads of comments on this article