As this is National Safe Work Australia Week it is rather timely to discuss a safety issue relevant to all our workplaces. NSWAW week is held annually in October to raise awareness of workplace safety.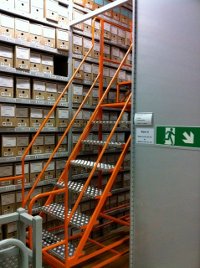 In my introduction I mentioned manual handling was one of the biggest safety issues we need to deal with at State Records. The sheer volume of material moved around our buildings in any one day is hard to imagine. The Western Sydney Records Centre at Kingswood in Sydney's western suburbs is the largest government record storage facility in the southern hemisphere and this makes us a unique facility in many ways.
Manual handling is loosely described as activities such as carrying, stacking, pushing, pulling, rolling, sliding, lifting or lowering objects.
To improve awareness of the correct principles of manual handling State Records has established the following:
A comprehensive OHS induction for all new staff, including information on manual handling and safe lifting techniques.
The induction also includes the viewing of an up to date DVD on Warehouse Manual Handling.
Training by external occupational therapists on the anatomy of the back, avoiding back injuries and current safe manual handling techniques.
Continual improvement in mechanical aids such as trolleys and platform ladders. Many of the trolleys and ladders have been specifically designed and customised for our use.
Consultation with frontline staff using the equipment to ensure the relevance and useability of the equipment.
Risk Assessments to ensure all hazards and risks are eliminated or reduced before the purchase of new equipment or changes in work practices.
Compilation of Safe Working Method Statements (SWMS) for all identified high risk activities. The SWMS are signed by all relevant staff before commencing these activities.
The next post will deal with Occupational Overuse Syndrome (OOS) and how State Records deals with this safety issue.