Just some of the interesting items we have found online.
History House Museum donates estrays to State Records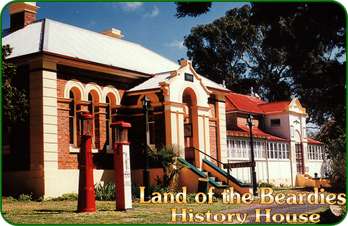 The History Museum at Glen Innes has done it again! Regular readers of the blog may remember the previous post about their generous donation of a valuable early land record. This time they are literally donating a courthouse worth of records.
The article from the Glen Innes Examiner can be read in full here.
LEATHERBOUND reports from Kookabookra Police Station more than 100 years old; handwritten records of potato trials at the Glen Innes Agricultural Research Station; a register of mining applications along the eastern fall.From inside a fire-proof room at the Land of the Beardies History House, 151 historic government records were dusted off and handed over to new custodians last week, becoming part of the State Records collection.
Ahoy, there! TNA UK releases log books and scientific journals online
The National Archives in the United Kingdom has released a collection of log books and scientific journals of ships on exploration from c.1757-1861 for search and download online.
These volumes are the logs (navigational records) and journals (narrative accounts) of naval officers of ships engaged in exploration and surveying, which were used by the Hydrographic Office to produce charts and other data…..

Many famous officers kept logs held in this collection, including James Cook, William Bligh and Matthew Flinders.
Copyright Protection on Social Networking Sites
Ryan W. O' Donnell and Aneesha Mehta examine some of the potential implications of copyright protection for social networkers in the Unites States.
A recent survey by Ruder Finn indicated that almost 38 percent of mobile phone users go online to post photographs or videos on social networking sites like Facebook and Twitter. These photographs or videos can actually be "original works" under copyright laws. Many social networking site users are likely to be unaware of the potential copyright issues associated with posting such original works.
Broken Hill Archives collaborates in tourism promotion
Broken Hill City Council, Arts NSW, Countrylink and the Broken Hill Regional Writers' Centre have collaborated to produce an online promotional resource for the region. (warning large .pdf file)
This is a portrait – undoubtedly only one of the possible perspectives – of a city and its surrounds. It is a collection of photogrpahy poetry and prose round and about this place.
Looking for a Museum grant? Step this way..
Museums & Galleries NSW has put together a great group of resources for Museums seeking access to grant funding. They have published a Grants Overview page which provides links to information about their own grant funded schemes as well as information about grants available from other organisations.
Their M&GNSW 2010 Grants and Funding Booklet which can be downloaded via this page is definitely worth a look!