[Suzanne Upton is an archivist working in Public Access]
Oilmen's sundries and how to make them, 1901
Oilman: a person dealing in oil
This volume – NRS 5023 – with a rather obscure title, is a manuscript copy of a book published by Maclaren & Sons of London in 1901.  It is a beautifully handwritten collection of recipes for just about everything you could imagine needing for your home and as the full title suggests, all of a practical nature.  This volume also includes handwritten copies of the advertisements that would have appeared in the original book. Interestingly the volume came to the State archives from the Darlinghurst Reception House, NSW Health Department. The Reception House was used for the temporary detention of persons believed to be insane pending a determination of the nature of their illness. One wonders if this volume was in high demand for use in the hospital.
Oilmen's sundries takes up about two-thirds of the volume and then the handwriting and the tone changes. The remainder of the volume has handwritten kitchen recipes for things such as essences, jellies and cordials. There is no date for these later additions.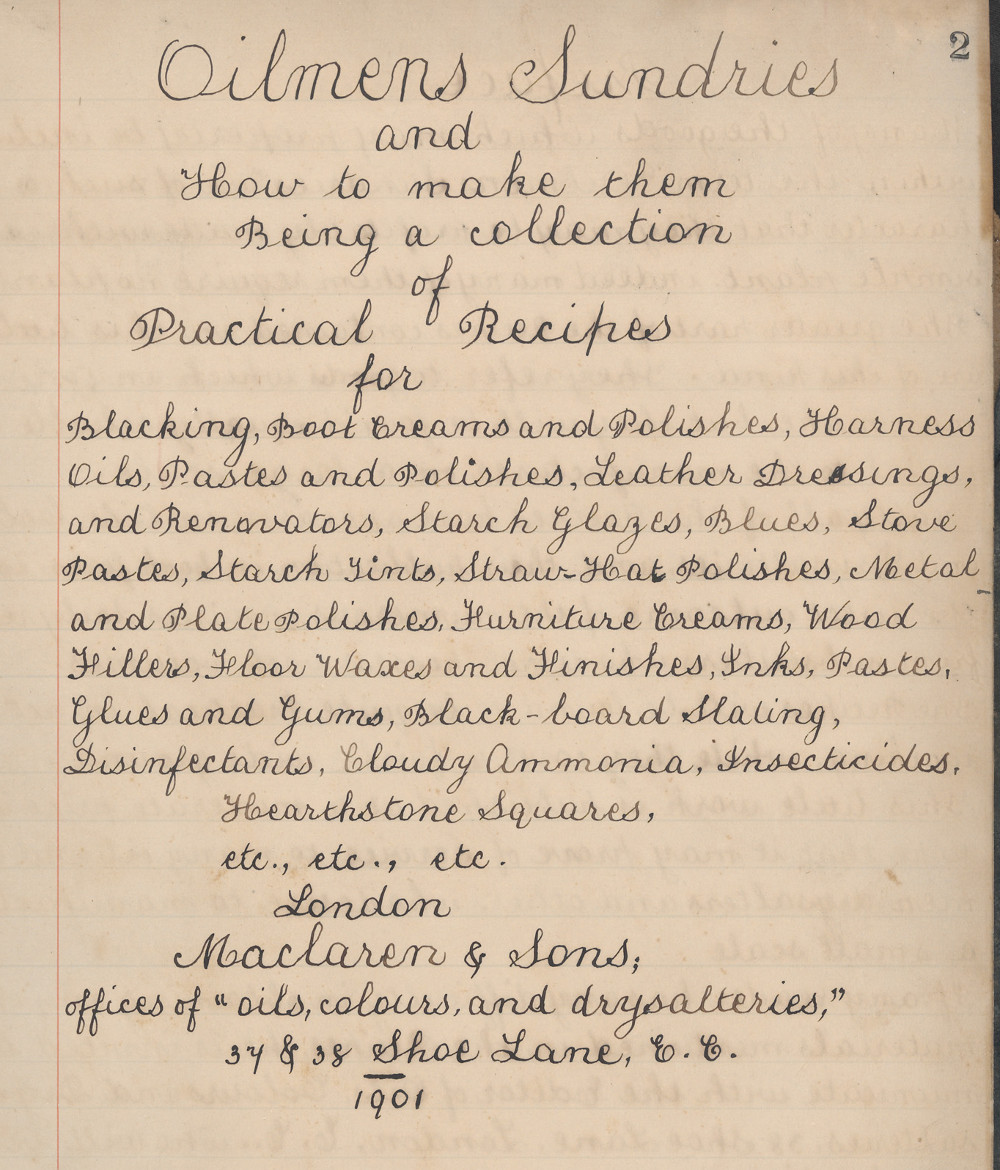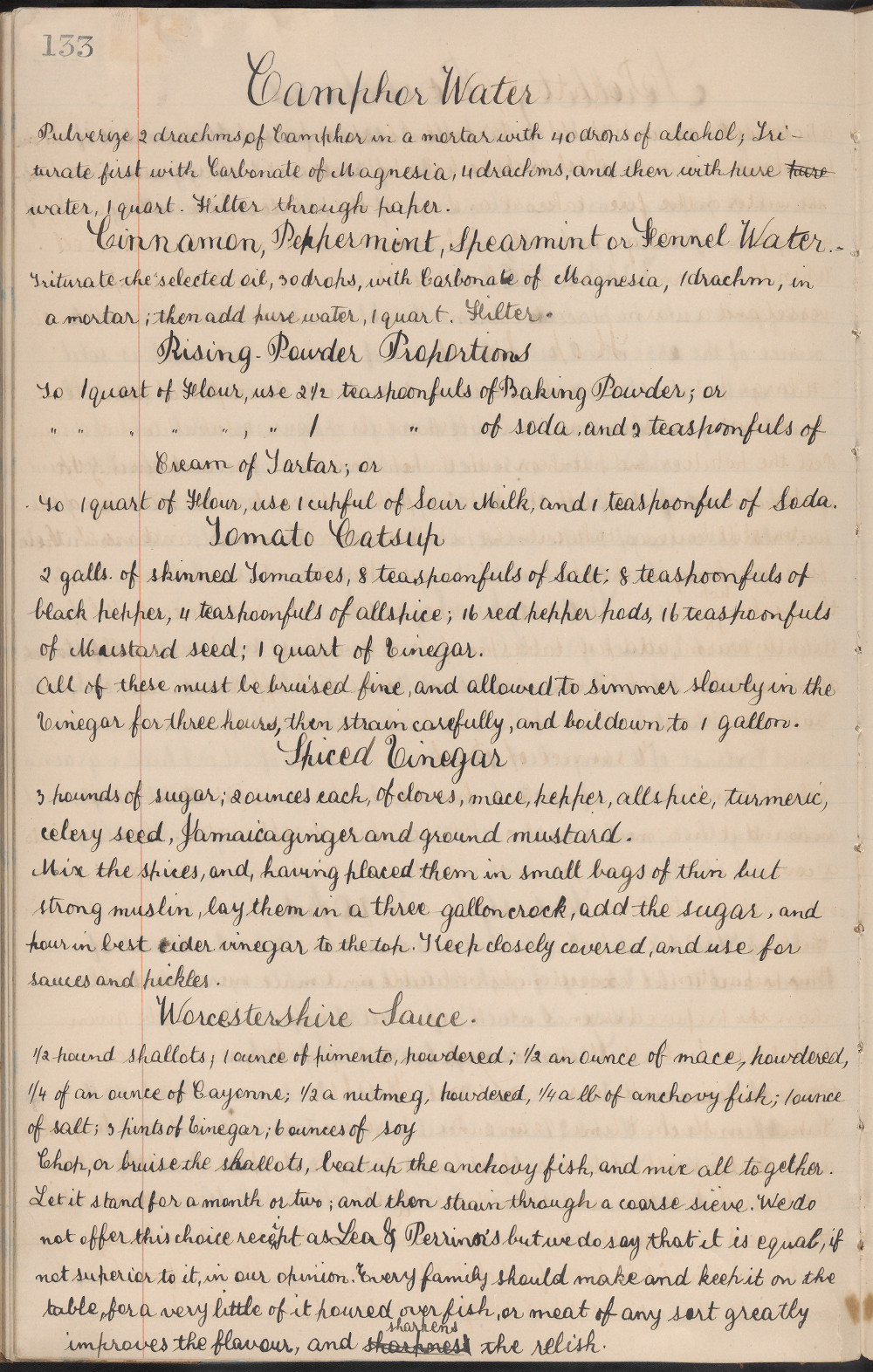 What I like about this archive is that it is a reminder of what life was like not too long ago. It was a time when people couldn't dash off to the supermarket or hardware store and just buy what  they needed for the home. Out of necessity these products had to be made in the home. The variety of polishes, waxes, varnishes, soaps, glues and cleaners is amazing.
Oilmen's sundries is divided into six sections:
Blackings and leather dressings
Starches and glazes
Polishes and renovators
Inks, pastes and glues
Disinfectants and insecticides
Miscellaneous section including soaps, sealing wax, carbon paper etc.
I particularly liked recipes for things like straw hat polish, blackboard slating, fly paper, effervescing lemonade powder and a pickle for candlewicks.
Fly paper recipe
The fly paper recipe is for blotting paper to be dipped into one of three solutions: quassia chips boiled in water then strained (quassia is an astringent herb); black pepper boiled and strained; or asseniate of soda dissolved in water. The last option is the "surest but must be used with caution". Maybe it was very toxic?
Pickles for candle wicks to prevent smouldering

This basic recipe for pickling cotton wicks was meant to ensure that the wick burned more slowly in candles. Cotton wicks were soaked in a pickling solution of either boracic acid (a common insecticide and flame retardant) or borase, potassium and ammonium chloride.
A cooking experiment: Tomato Catsup

The recipe for tomato catsup is similar to other vintage-style recipes.  I decided to make half the quantity and see what it was like.
The ingredients included
2 gallons of skinned tomatoes
8 tsp salt
8 tsp black pepper
4 tsp allspice
16 red pepper pods
16 tsp mustard seeds
1 quart vinegar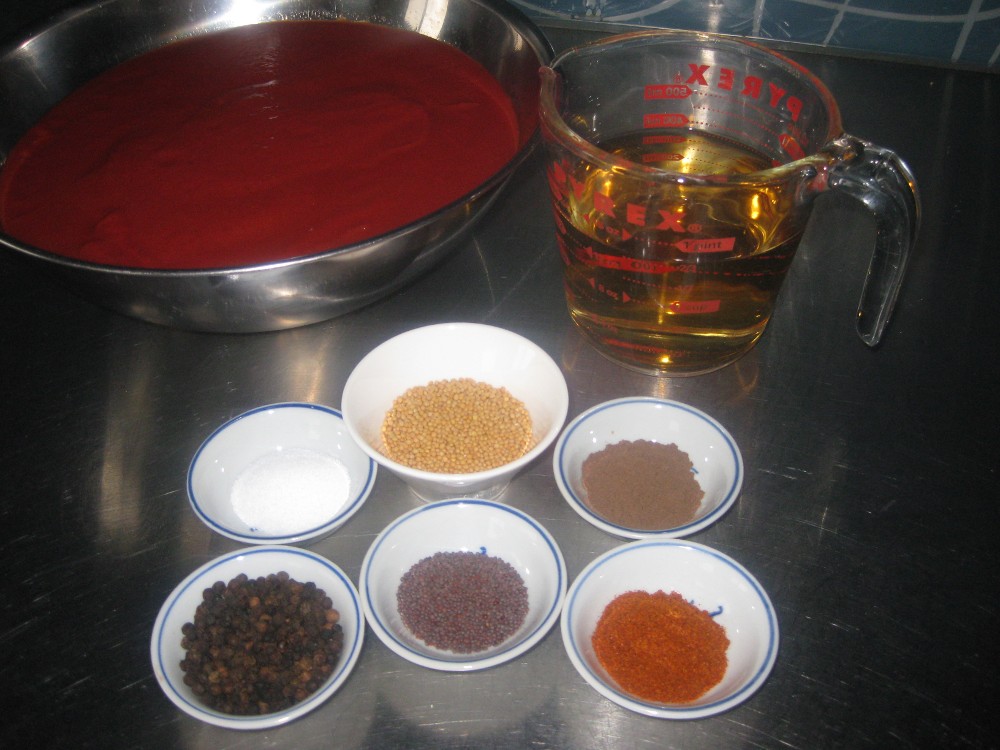 After some research I decided to substitute cayenne pepper for red pepper pods and use apple cider vinegar.  There was no sugar in this recipe which I thought was unusual, especially compared to other similar recipes.  For the half quantity I used:
2 lt canned tomatoes
2 tsp salt
4 tsp black pepper
2 tsp allspice
2 tsp cayenne pepper
8 tsp yellow & black mustard seeds
375 ml apple cider vinegar
Added ½ c brown sugar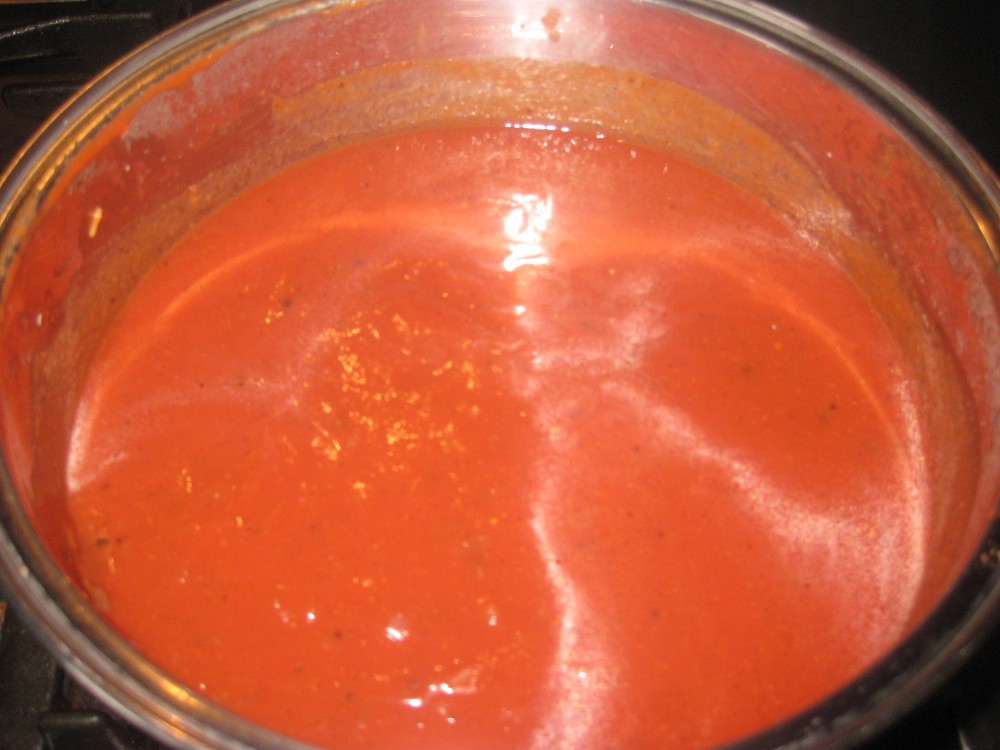 The process
I dry roasted the mustard seeds and then ground them with the black pepper in a mortar and pestle.  I then added the salt, allspice and cayenne.  I couldn't help myself (too many cooking shows) so I did start the cooking process with three red onions finely sliced and six cloves of crushed garlic in the pot.  I then added everything else and brought it to a low simmer for 3 hours.  I used a whiz stick to blend and the strained the catsup.  At this point I added another teaspoon of salt. The original recipe calls for the sauce to be boiled again until it is reduced to about half of the starting volume. The sauce was quite thick already so I felt this was unnecessary.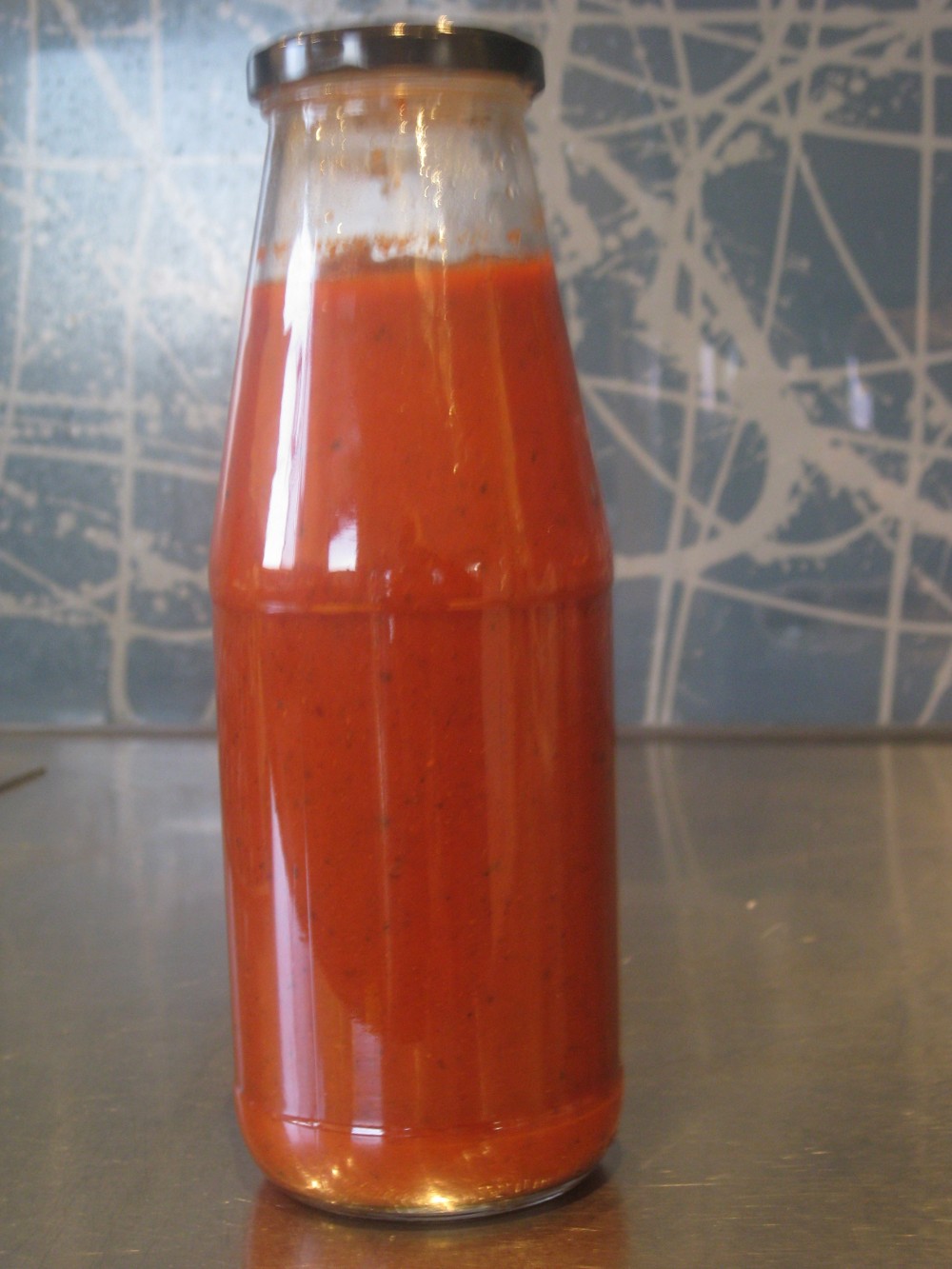 The verdict
The end product was quite spicy and chilli hot but the vinegar was very strong.  To use it in the future I think I will need to add more tomatoes to reduce the vinegar taste and boil again.  The sauce was also quite sweet so maybe that sugar wasn't needed after all.
Coming soon – History Week September 2011.  Watch out for a new gallery "Food Glorious Food!" highlighting some food related gems from the State archives. Watch this space…