It was some time ago now but you might remember the post we wrote in April 2010 asking your opinion on providing a digital camera in the reading rooms for researchers to use. We received some great advice and suggestions in that post on the possible pros and cons and we are happy to announce there is now a digital camera up and running in the Kingswood reading room.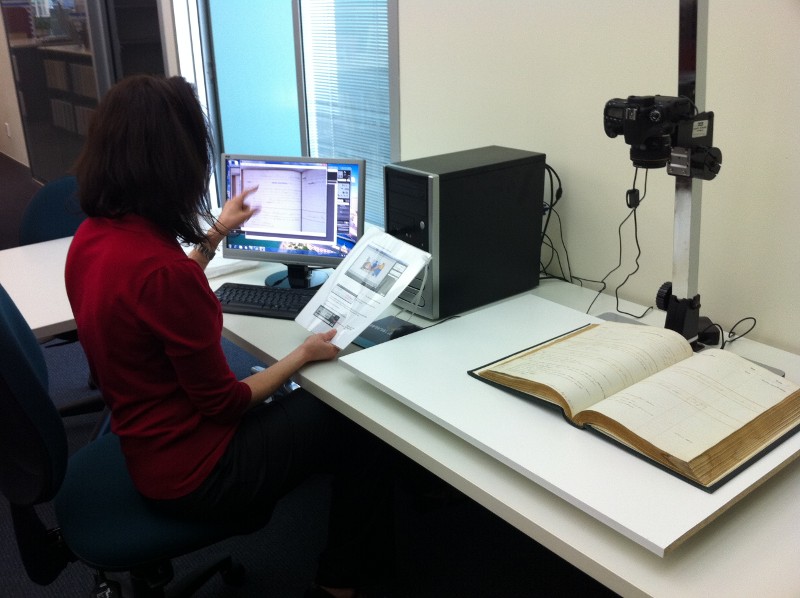 The set-up is slightly different to what was initially imagined:
a DSLR instead of a point-and-shoot, and
instead of selling memory cards, a USB is the key to researchers taking digital copies (bring one in or buy one over the counter).
We hope this new, free service will be as useful to our researchers as that at the Public Records Office of Victoria (now with two cameras in the reading room and one recently installed at their Ballarat office).
The USB stick can also be used in conjunction with another digital services now provided in our reading room-  researchers can now make digital copies from fiche or film.
Update – Equipment used for setup
The camera is a Canon EOS 60D with Canon EF28mm f1.8 lens attached to LPL CS II Copy Stand. The software 'EOS Utility' comes with the camera. We also have a AC adapter (canon Ack-E6) so there is to need to keep charging batteries.
There is also a second camera that will be set up soon this was donated by Ancestry.com. Canon rebel T1i (American equivalent to out 550D) with 50mm Marco lens and Kaiser stand .