I recently stumbled across a SlideShare presentation which analysed three online archival collections and the comments left by visitors.
The comments were gathered together from the three collections and categorised as follows: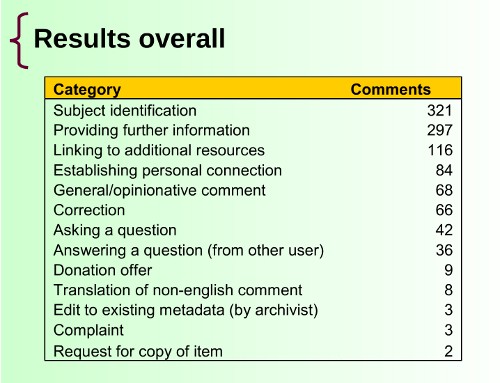 I found the results interesting because we receive many comments from web visitors who help identify (photographic)  items that we have uploaded to Flickr and here in the Moments in Time series. And the majority of comments correspond to the top three categories above: subject identification; providing further information; and linking to additional resources.
Our image database – Photo Investigator – doesn't have the functionality for web visitors to add comments directly and so we find these Web 2.0 sites help make our collection more accessible to our web visitors by allowing them to comment and contribute.
A new enhancement to Photo Investigator allows us to link back to these Web 2.0 sites to highlight identifications/contributions by members of the public. While the link remains separate to the 'official' information  (ie., the additional information sits in the Notes field) it will nevertheless enhance the metadata and therefore the archival collection [see example here].
View the SlideShare presentation