June Dietrich is employed at Charles Sturt University Regional Archives (CSURA)
Voluntary Aid Detachments were first established during the First World War by members of the Australian Red Cross and the Order of St John.
The aim of a Red Cross Voluntary Aid Detachment was to have "a trained body of women who could take their place amongst sickness or accidents in times of peace or war".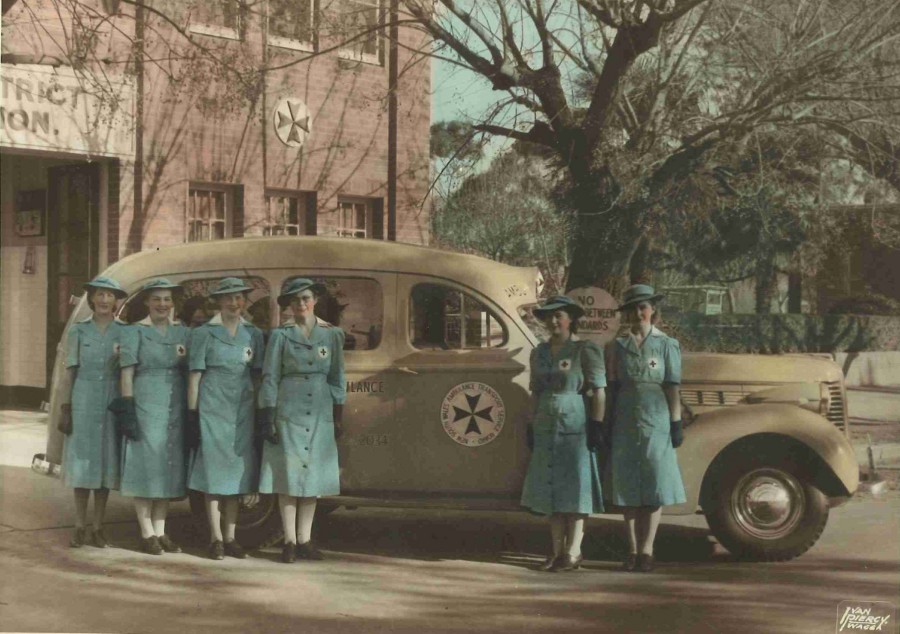 Formation
In September 1939, as the Australian Red Cross was put on wartime alert, the Mayor of Wagga, Mr H. Gissing, called a public meeting in the Town Hall.
The NSW Red Cross Commissioner, Mr G.C. Graham, addressed the meeting and spoke of the essential work of the Red Cross during war time.
A decision was made by women volunteers who were present to form a Wagga Branch of the Voluntary Aid Detachment and the office bearers were elected: Commandant, Mrs Erskine; Assistant Commandant, Miss J. Rentoul and Quartermaster, Miss B. Wunsch.
The first meeting of the Detachment was held in St John's Hall in Baylis Street, on September 22, 1939 with more than 70 women in attendance.
As with all the voluntary services, the girls had to attend drill practice at the drill hall in Docker Street; they were instructed by Warrant Officer Lee.
First Aid was a necessary requisite for members and courses were held regularly after which examinations on theory and practical work were undertaken.
Mr Loth, Superintendent of St John's Ambulance, lectured members in First Aid and Home Nursing lectures were delivered by Dr N.J. Solomon and after his death by Dr R.A. Lewis.
An Armistice Day service was held on November 14, 1939 and 28 girls in the VAD made their first public appearance in their blue and white uniforms by marching to the Monument in Baylis Street.
They regularly participated in marching with other women's groups on military sports days and Anzac Day.
Mr Graham, the Commissioner, inspected their parade in December 1939 and was impressed at the "one hundred percent efficiency" of the girls.
By December 1939, the Detachment was divided into sections, the leaders being Misses Riedell, Milne, McDougall and Commins; however, in view of increasing membership, by June 1940 more sections had to be formed led by Misses Gillman, E. Williams, and Walker.
Sections competed for field efficiency and general efficiency cups until they became too busy with their First Aid and Home Nursing lectures, though competitions resumed when time permitted.
Aiding the War Effort
In July 1940, the VAD began work at the AIF Tent Hospital at the Wagga Showground with members attending daily under the supervision of voluntary trained nursing staff and military orderlies.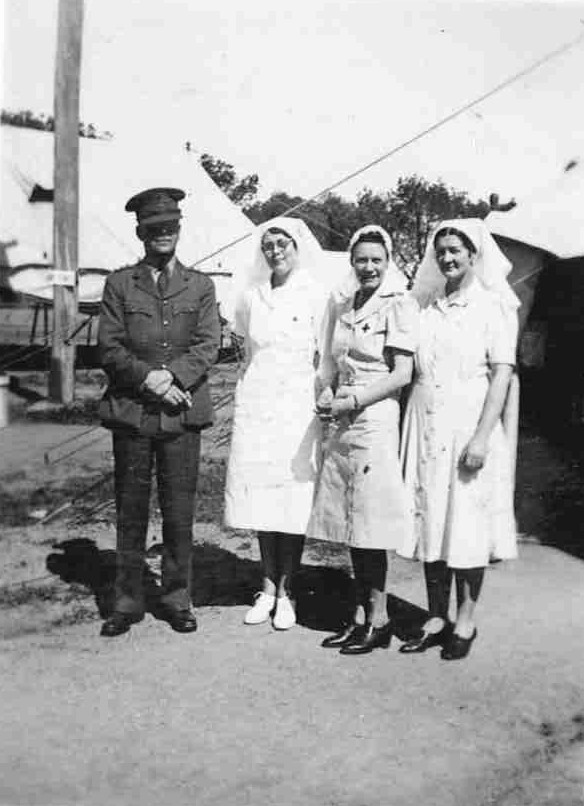 They used their acquired knowledge by improving the conditions of the sick men and, with the assistance of Sisters Kingston, Wild, Williams, Cowdry and Thomas, 374 patients received help from the Detachment.
Assistance was given by the VAD to the Wagga Base Hospital and they were also available to help Doctors administer typhoid fever vaccinations to 2000 soldiers.
The local girls who did not enlist for full time service continued to work at the showground Military Hospital and later at the new Kapooka Military Hospital when it commenced operation in 1943.
The Role of Fund Raising
Fund raising was continual and dances were held by different sections almost on a weekly basis as well as balls and market days where they sold home-made soap, jam, pickles and sauces. They also made and sold thousands of VAD dolls.
The huge Easter appeal in 1942 raised funds to assist Prisoners of War. [An article regarding a very successful ball with over 700 in attendance and describing the women's dresses can be found in the Daily Advertiser on October 8, 1942].
Mrs Erskine, Commandant from inception in 1939, resigned her position in December 1943 but, because of requests from the Detachment, she returned in May 1944 and remained until 1946 when Miss Jean Everitt was appointed.
Miss Everitt remained Commandant until the detachment went into recess in 1948.
After the War
When the VAD reformed, serving Commandants included Mrs. C Dixon (1952-1956), Mrs P Bateman (1956-1958) and Mrs M Duff (1959 – 2000).
Members continued service throughout the years at the Wagga Wagga Blood Bank, driving disabled ex-servicemen on Anzac Day and participation in Telecross and CosmeticCare.
They also conducted First Aid lectures and coordinated the annual Red Cross Appeals in Wagga Wagga.
The Wagga VAD held their 60th Anniversary in October 1999. Ladies travelled long distances to attend the luncheon and two veterans who joined in1942, Mrs Mary Dunn and Mrs Lila Meech, were present.
The VAD is now part of the Voluntary Aid Service Corps (VASC) in NSW.
It was an emotional occasion when Mrs Mavis Duff, Officer in Charge, presented her last Annual Report in 2000 and the Wagga Branch of the VAD disbanded.
She had been Commandant (Officer in Charge) and a member for over 40 years.
References: CSURA: RW1647, RW2729; Wagga Wagga A History, Sherry Morris; Daily Advertiser: Oct 1941, Oct 1942.
Visiting Charles Sturt University Regional Archives – What you need to know
The CSU Regional Archives are open Monday – Friday, 9am – 5pm. Located in the Blakemore Building on South Campus of the University, access can be gained via College Avenue or Hely Avenue.
Members of the public are welcome to visit the search room where professional archival staff can assist with enquiries. For those people unable to visit the archives in person, staff can provide a research service for straight forward enquiries for a fee of $55.00 per hour including copying and postage.
For further information please phone 02 6925 3666, email: archive@csu.edu.au , or visit our website at www.csu.edu.au/research/archives for a full listing of holdings and more detailed information.