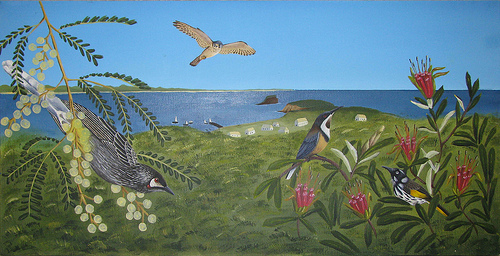 Gionni DiGravio from University of Newcastle Cultural Collections uses Flickr and YouTube to document what happens when experts from the field of art and science use archives and their expertise to inform perceptions of the Newcastle Coastline.
Back in September 2008 a manuscript came to light in the State Library of New South Wales containing the first recorded mention of the Aboriginal name of Nobbys as  'Whibayganba'. In addition, the 1828 field book of Sir Thomas Mitchell, Surveyor General, contained three sketches of Newcastle drawn from the top of Fort Scratchley looking towards Nobbys, then looking towards Prospect Hill (Now Obelisk Hill), then another taken from the top of the Windmill (now Obelisk Hill) looking back towards Newcastle…….

At the time, the Coal River Working Party immediately enlisted the assistance of  Emeritus Professor John Fryer in Surveying to ask whether he could examine the survey readings and compare them with those of Australian Agricultural Company surveyor John Armstrong Survey in 1830.

We believed that this Field book would also be of interest to art historians wanting to compare the actual perspective readings with the colonial art portrayals of the township. So we also asked Dr Anne Llewellyn whether her Natural History Illustration students would be interested in 'colouring' Mitchell's sketches and bring them to life.

This was a perfect opportunity to spark an interdisciplinary 'science meets the arts' research approach to these important historical works.