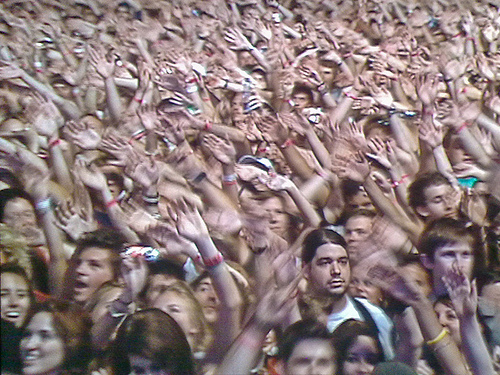 Following on from the theme of Rose Holley's  Making our Digital Nation  talk at Mosman Council, I thought it might be interesting to take a look at some more sources on Crowdsourcing and what it can do for Archives and Libraries. The possibilities are inspiring!
What is Crowdsourcing ?
How can it be used by Libraries and Archives?
The following articles discuss Crowdsourcing, outline current projects engaging members of the public with Libraries and Archives and highlight some exciting opportunities for the future.
Crowdsourcing: How and Why should Libraries do it? , Rose Holley – National library of Australia, DLIB Magazine, March/April2010
Crowdsourcing has not been attempted on any significant scale by libraries to date, but could prove to be the most useful tool a library can have in the future. If the facts known about crowdsourcing and the tips outlined in this article are applied any crowdsourcing project that is 'for the common good' and initiated by a non-profit making organisation such as a library is likely to be successful. If the public are given a high level of trust and responsibility they will respond with loyalty and commitment as has been demonstrated in the crowdsourcing sites discussed. There is huge potential for libraries to harness digital volunteers. Libraries need to give up 'power and control' thinking and look to freedom instead. Harriet Rubin, business publisher and author talking about success says "Freedom is actually a bigger game than power. Power is about what you can control. Freedom is about what you can unleash"17.
 Involving archive users in digitising archival collections, Harriet Deacon, The Archival Platform
Volunteers can never replace expert archival digitisation, inventorying, metadata entry and so on within archives, but the reality is that archive infrastructures are not coping with the volume of work, even in wealthy countries. There is perhaps for this reason an increasing emphasis on the use of volunteers by relatively well-funded archives in the western world, following on the revolutionary success of projects like Wikipedia.
Fantastic volunteer scanning project with National Archives – great example of crowdsourcing (and interesting remarks from Mr Ferriero, Kate T.,  ArchivesNext (well what will come next?)
The purpose of the group is to organize volunteers to create digital copies of NARA's video holdings on DVD so that the digital copies can up uploaded to the Internet Archive and the PublicResource.Org YouTube channel and shared with the public at no charge. You can find more details here. This is an extension of the successful effort led by Carl Malamud to have the public purchase all the NARA DVDs being sold on Amazon so that they could be digitized and uploaded for free public use (which you may remember from a post back in December).
The bigger picture – Crowdsourcing in other fields
Searching just about any online source for articles relating to Crowdsourcing brings up many, many hits.  Here are a few samples with useful advice:
Nice and nasty does it: Shirky the "net guru" on what the future holds , Decca Aitkenhead (Clay Shirky Interview, Sydney Morning Herald 5 July2010)
Just as the invention of the printing press transformed society, the internet's capacity for "an unlimited amount of zero-cost reproduction of any digital item by anyone who owns a computer" has removed the barrier to universal participation, and revealed that human beings would rather be creating and sharing than passively consuming what a privileged elite think they should watch.
Yesterday was the "Hoxne Challenge" – an attempt to see what can be achieved if a Museum and Wikipedians work together on a specific topic in a focused effort. This culminated on Friday with an on-site tour and intensive collaboration session between Wikipedians and the relevant experts at the British Museum.
 Ross Dawson: Six tools to kickstart you crowdsourcing strategy,
Best-selling author and globally recognised futurist Ross Dawson discusses the development of crowdsourcing – and the tools you need to tap this valuable resource.

List of Crowdsourcing projects
Wikipedia has compiled a list of some of the most recent examples of Crowdsourcing,