Just some of the interesting items we have found online.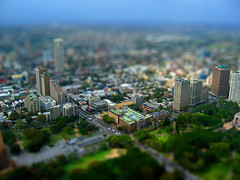 Photographic resource for Sydney its Suburbs
As well as having some stunning photographs the Sydney – City and Suburbs blog is a handy tool for those enthusiastic photographic investigators who are trying to identify the location of  a photograph from Sydney and its surrounding areas.  It currently features a post on the Macquarie Visions Festival which lit up Macquarie Street as part of Vivid Sydney.
A new photo posted here every day from the city of Sydney, the nearby suburbs or beyond.
Stonehenge in Texas?
Yes, really. In a belated shout out to the Summer Solstice, and Dr Who fans (you'll know why in 2 weeks Australia), we thought we'd throw in this link from the Library Online Lounge – Tarleton Libraries .
Stonehenge II as it is know is about sixty percent of the size of the original and is located on FM 1340 about two miles west of Hunt, Texas. Al Shepperd began building Stonehenge II in 1989. Later Easter Island heads appeared at the site.

Privacy on the web
How private is information about you and your use of the web? Probably not as private as you might think. Lifehacker.com outlines the Top 10 Privacy Tweaks You Should Know About , with links to some handy online tools.
With all the talk lately about Facebook's flawed privacy systems, it's a good time to consider what you're making available elsewhere on the web and on your system. These 10 settings tweaks and setups make your web life a little less public.
Privacy and Web 2.0
An interview on Spiegel Online with the German Interior Minister discussing Web2.0 and privacy. "Those on Social Networking Sites Want Their Data To Be Linked"
Everyone involved — users, companies and the government — carries a responsibility for the protection of privacy and safety the Net. Most Internet users are not careful enough and disregard even the simplest safety precautions. They are responsible for this themselves.

Vatican Secret Archives
Dan Vergano from USA Today recounts a tour through the Vatican Archives.
"What we are seeing is a recognition on the part of the Vatican, or an ongoing discussion at the Vatican, on how to deal with the demands of the modern world for information," Bunson says.