The 'glove' poll has been closed and the results are in. It's almost neck and neck with nitrile gloves (29%) vs cotton gloves (26%).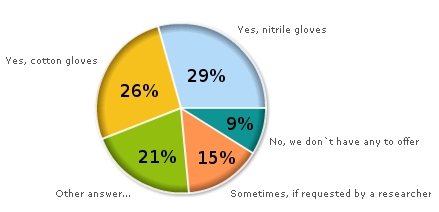 Close behind was "Other answer" with comments including:
clean hands policy, cotton or nitrile gloves when viewing some formats
When using photos or rare books
Only when handling photos or metal items
depends on fragility of material i.e. clean hands in this case otherwise nitrile
When photos or metal is handled; for paper no gloves are required
It appears that the traditional cotton style has been slowly overtaken by the disposable nitrile variety.
Until the next poll…
By the way, if you have a question you'd like answered in a future poll please contact us.