…and having fun!
You might remember last year we had a guest post from the friendly folks at Historypin who wrote about this exciting new way of viewing and sharing history.
From the post:
Historypin is a public history collaboration working with individuals and communities, in partnership with Google and over 100 institutions around the world, to share their collections and build community around local history.
One of the initiatives on Historypin for this year is to create a 'global interactive archive' of the Diamond Jubilee celebrations of Queen Elizabeth II. Libraries, museums and archives dove into their collections looking for photos, documents, audio and video to pin the Queen's history. Including us! You can see our contribution to the Jubilee here.
Diamond Jubilee 'Tour'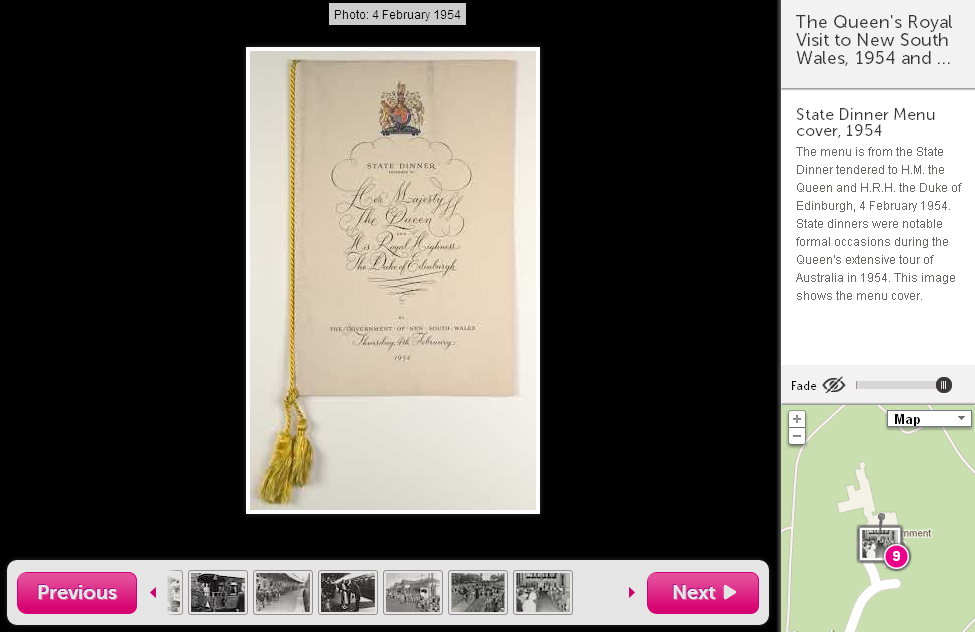 Overlaying photos onto Google streetview
We've been adding non-Royal items, too. Being able to match, or almost match old photos onto Google streetview is quite a feat. A warning though: if you're too heavy-handed in clicking through streetview, most likely due to over-enthusiasm, you may find you get a little sea-sick as you get through streetview at a rapid pace. For instance, it took a while pinning this image below of Bourke Street, Sydney – and it's not even a perfect fit as I kept getting thrown into the Eastern Distributor tunnel if I clicked a little too far into the /streetmap.
By the way, this photo was a recent Moment in Time which has been identified as Bourke Street…thank you!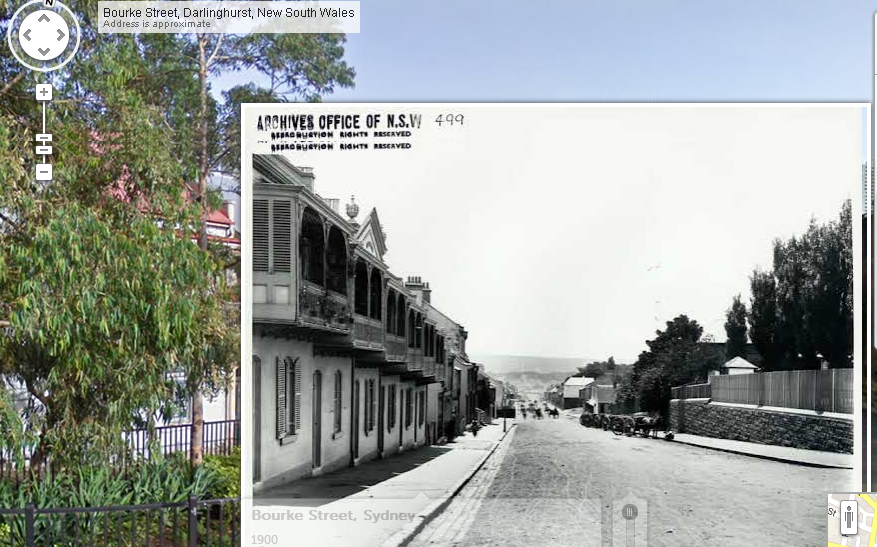 Matching topography…
Where streets have changed considerably over time the topography might help to match up content and the transparency slider comes in very handy for this.  Below, is a 1929 view of Tamworth – Google maps showed just one original building still remained. So the building and the mountains in the background could be used as markers.
 …and finding new information to update our catalogue
We also managed to determine the street in which this photo was taken (Brisbane Street) and update our catalogue as a result.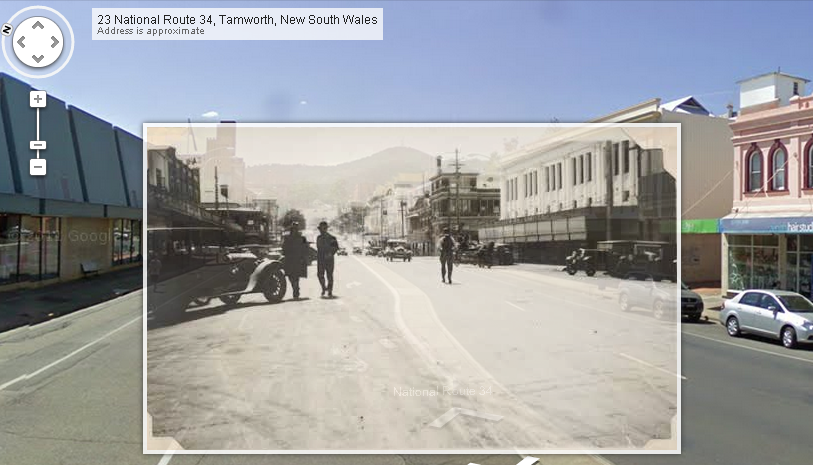 So far, joining Historypin has been a great experience.  We're also thinking of ways in which we can use this tool to create new types of exhibitions, ones that we have not had the technology to do undertake thus far. We're very much looking forward to increased functionality which will allow us to overlay old maps onto the Google maps. Maps are one thing we have a lot of in our collection – can you imagine, with the transparency slider, fading in and out the old to the new.
Watch this space…
More about Historypin