Following on from our Geospatial post earlier this week we are here to talk Geotags. Geotagging is the process of adding metadata about geographical location to items such as photographs, archives and websites.
At present our main intellectual control systems are not equipped to deal with Geotags. However, we are experimenting on a very small scale with geotagging images on our Flickr account. It is amazing how something so simple can add layers of context and accessibility to a record. In a small experiment on Flickr we have geotagged some of our photos of train stations around New South South Wales. Other images have also been geotagged by Flickr friends.
How did we geotag railway stations on Flickr?
An example using Wikipedia
Wikipedia has quite detailed information on railway stations, including co-ordinates. Here is a photo on our Flickr account of Springwood Railway Station dated 1953.

A quick internet search of "Springwood railway station" and we find this on Wikipedia (note the co-ordintes to the right).

Clicking the co-ordinates brings up GeoHack where the correct format for the Flickr tag can be found.

Add the tags to Flickr – there are three separate tags to enter:
geotagged
geo:lon=xxx.xxxxxx
geo:lat=-xx.xxxxxx
And we end up with this: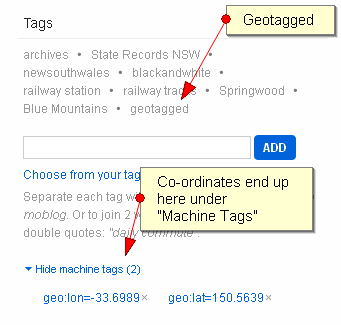 You can search for "railway station" on our Flickr map to see the progress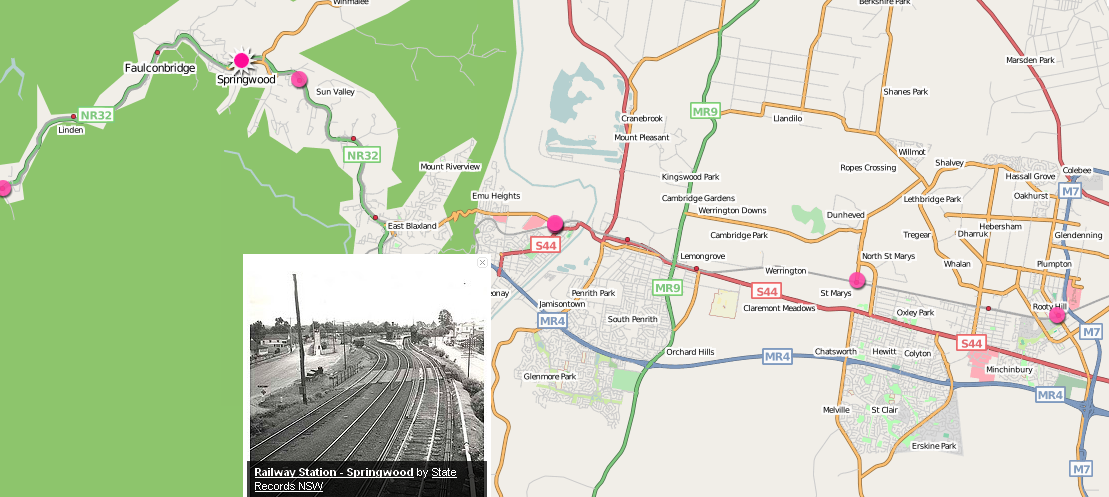 Experts out there may have an easier way to do this and we'd love to hear how.
What's the Plan?
The plan is that once our own control systems can handle the data we will transfer it across. So far we have only been able geotag a few images, however, we'd love to have more. If you're interested, perhaps you can help? Anyone with a flickr account can tag our images so if geography is your thing we would love for you to give us a hand!
Any and all help is much appreciated!