One way and another Governors have been a popular topic of conversation in NSW lately. Last week it was announced that General David Hurley will be the next Governor of NSW, while over the weekend retiring Governor Marie Bashir was appointed a Dame of the Order of Australia in the Queen's Birthday Honours List.
Here at State Records NSW we've been focussed on a Governor from a different era, Charles 3rd Lord Carrington, former Governor of New South Wales from 1885 to 1890.  On 23 May 2014, Minister for Finance and Services, Dominic Perrottet, joined Governor of New South Wales, Her Excellency The Honourable Marie Bashir, at Government House to receive a gift of historic volumes from the Carington family.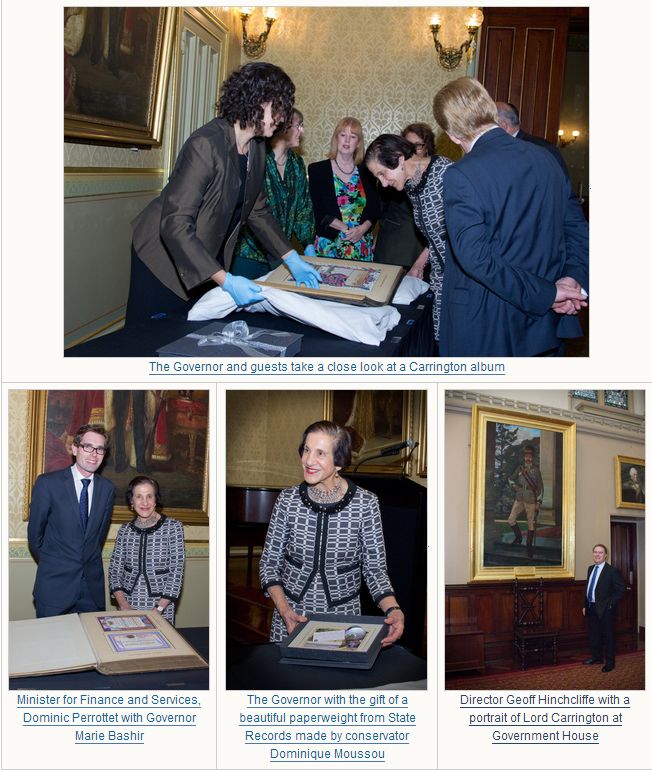 State Records was on TV!  ABC #730Report
You may also have seen the volumes featured on the NSW version of the 730 Report on the ABC last Friday night.
 7 Interesting Facts about Lord Carrington*
Lord Carrington convinced Sir Henry Parkes in 1887 not to change the name of the colony of New South Wales to Australia.
The Carrington's family crest; an elephant's head, charged on the neck with three fleur-de-lis and the motto 'Tenax in Fide' (Latin for 'Steadfast in Faith'); was adopted by the Royal New South Wales Lancers upon his arrival in 1885. This is still used by the Lancers today,
Lord Carrington unveiled the statue of Queen Victoria at Hyde Park before an audience of more than 50,000 in 1887 for the Queen's Golden Jubilee
Lord Carrington laid the foundation of Centennial Park for the centenary in 1888, declaring 'the property for the people for ever'.
NSW postal authorities issued two commemorative postage stamps in 1888, probably the first of their kind anywhere in the British Empire. One depicted a map of Australia complete and the other portrayed the first Governor of 1788, Arthur Phillip and the current Governor of 1888, Carrington.
A daughter was born to the Carrington's in 1889 and they gave her 'Sydney' as one of her names.
Lord Carrington bought and subdivided the area of land which was later to become known as the suburb of Castlecrag on Sydney's lower north shore.
The Albums
The 22 leather bound volumes contain hand painted dedications, photos and memorabilia from regional towns visited by the Governor in the 1880's. It provides a snapshot of pre-federation NSW at a time when the colony was on the cusp of great change. A sample of the images have been uploaded into an online gallery.
*These facts are sourced from the following publications: Clune, David and Ken Turner (eds.), The Governors of New South Wales 1788-2010, The Federation Press, 2009 Rollo Gillespie, Viceregal Quarters: An Account of the Various Residences of the Governors of New South Wales from 1788 until the Present Day, Australia, Angus and Robinson Publishers, 1975.