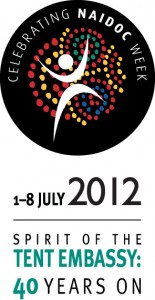 This week is NAIDOC week. The theme is "Spirit of the Tent Embassy 40 Years On". Here is an example of some of the fantastic material out there on the web that has been highlighted to mark the occasion.
Am completely addicted to the beautiful @abcopen #naidoc project Dreambox … gorgeous pictures, stories abc.net.au/open

— Annabel Crabb (@annabelcrabb) July 2, 2012
Australia: NAIDOC Week Salutes Struggles And Importance Of The Tent Embassy bit.ly/M03eui

— Cultural Survival (@CSORG) July 2, 2012
#NAIDOC Week is coming, and we celebrate with A Short History of Indigenous Filmmaking tinyurl.com/7f285ru

— australianscreen (@australiascreen) June 25, 2012
Loads of activities around Australia for NAIDOC Week. Here's a list what's happening in NSW  naidoc.org.au/naidoc-events/…

— State Records NSW (@srnsw) July 2, 2012
Wanna see every #NAIDOC Poster since 1972? OK, but only 'cause you asked nicely :) naidoc.org.au/naidoc-poster/…

— Luke Pearson (@LukeLPearson) July 2, 2012
If you could listen to country, what would you hear: is it a hum, an echo or a chorus? #Awaye! #NAIDOC ow.ly/bWNtG

— ABC Arts (@ABCArts) July 2, 2012
State Records has several resources that can help you identify, access and use State archives that relate to Indigenous people.