I was looking through some of our blog stats the other week and thought I'd share some of them; a Top 10 of Archives Outside, if you like. These stats show what has been the most viewed, the most searched for items and a little bit about you.
Not surprisingly posts/pages/searches relating to Underbelly: Razor featured quite high. What is surprising is the sustained interest in our pages/posts relating to Tilly Devine and co.
What have you been looking at?
Top Moments in Time [can you date this photo?]
By leaps and bounds the most popular Moment in Time was the view of an unidentified residential landscape. It didn't take you long to determine it was Newcastle looking towards Flagstaff Hill and Newcastle Beach (could have been the virtual chocolates) but it still had the most views and comments all year.
The roadworks on a Sydney street asked three questions: what street is it, what time period is it, and for what purpose is the work being done. It was impressively narrowed down to the exact date: King Street, 4 April 1900 during the plague cleanup.
How did you get here?
Sifting past the Underbelly: Razor searches and the term "Archives Outside" the most keywords that got you to the blog were:
Wayne Doubleday regional repository
Captain Moonlight
Social Media Strategy
How to remove blood from paper
Map of NSW/NSW Maps online
WANS
University of Wollongong
UNERA
Crowdsourcing archives
Ralph Snowball.
And lastly…are you local?
Visitors came from far and wide with the majority from Australia:
Australia – 73.80%
United States – 9.15%
United Kingdom – 3.14%
Other countries:  Singapore; Canada; New Zealand; France; Netherlands; Germany; Philippines.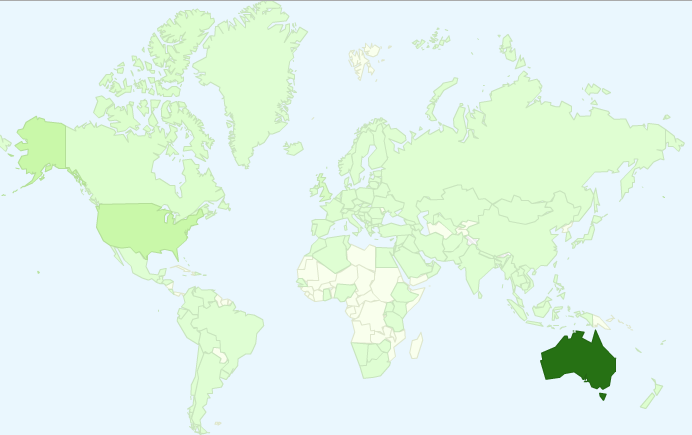 Here's to a bigger and better year next year! What have your highlights been here on the blog? We'd love to know.